Love is Blind season 4 cast: Meet the 2023 couples and contestants
Find out who's been spending time in the pods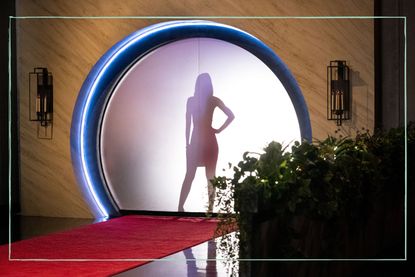 (Image credit: Netflix)
Love is Blind season 4 is here, and viewers want to know more about the cast and couples of the 2023 series...
Reality TV fans have been keeping up with the Love is Blind season 3 cast, wondering if various couples such as Matt and Colleen are still together or if Raven and SK are still together since the series ended last year. But now (finally!) season 4 has landed and there's a whole new group of singles to get to know.
The first batch of episodes dropped on March 24, and already there's been proposals and professions of love, as well as a few fights and tears. We've got the details on the Love is Blind season 4 cast, including which couples make it out of the pods and where Love is Blind season 4 is filmed.
Love is Blind season 4 couples
1. Brett and Tiffany
36-year-old Tiffany Pennywell and 35-year-old Brett Brown were the first to get engaged and make it out of the pods - despite Tiffany falling asleep while Brett confessed his love from the other side of the wall.
The pair seem to be the strongest couple so far, managing to avoid all the drama at the honeymoon pool party and focus on themselves instead.
Whether they'll go all the way to the altar, however, remains to be seen, and viewers will have to keep watching to find out more about Brett and Tiffany's Love is Blind journey.
Follow Brett and Tiffany on Instagram: @the.brettbrown, @tcpenny
2. Micha and Paul
Micha, 27, and Paul, 29, were both seeing two people during their time in the pods, but after mutually agreeing to break things off with Kwame and Bliss, Paul proposed and the pair went on to the honeymoon together.
Though Micah was entertaining some flirty conversation from Kwame during the honeymoon pool party, Paul seemed unbothered - though teasers for upcoming episodes show Micha and Kwame talking again. We'll have to wait and see if the pair make it to the altar!
Follow Micah and Paul on Instagram: @micah.lussier, @paulpeden
3. Chelsea and Kwame
Kwame, a 33-year-old sales development manager, was heartbroken when Micha decided to end things between them in the pods. But he soon moved on to 31-year-old speech language pathologist Chelsea.
They have a clear connection and get on well during the honeymoon, but it seems Micah may come between them when she jokes that Kwame had a "failed proposal" with her. Keep watching to find out if they say 'I do' at the end of the season...
Follow Chelsea and Kwame on Instagram: @the.chelseagriffin, @ayokwam
4. Zack and Irina
31-year-old criminal defense attorney Zack also found himself caught between two girls in the pods. Despite also forming a connection with Bliss, in the end he proposed to 26-year-old business owner Irina.
Their first meeting didn't go too well - with Irina seemingly underwhelmed by Zach's appearance and put off by his intense eye contact. Things go from bad to worse on the honeymoon and the pair eventually go their separate ways.
But with both confessing they are drawn to other contestants, could there be two new couples about to form?
Follow Zack and Irina on Instagram: @zackgoytowski, @irina_solo
5. Jackie and Marshall
Dental assistant Jackie was exploring two connections while in the pods, but eventually accepted a proposal from 27-year-old marketing manager Marshall. However, their honeymoon doesn't get off to the smoothest start and at one point we see Jackie break down for no clear reason.
Jackie has since revealed in an interview with Entertainment Weekly that the reason she was so upset was because she was "dealing with a lot back home." At the time, her father was fighting Stage 2 head and neck cancer, and Jackie was struggling with spending time away from her family.
Follow Jackie and Marshall on Instagram: @jackelinabonds, @marshallglaze
Love is Blind season 4 cast
1. Bill
Age: 33 | Occupation: Real estate investor
Bill is looking to go deeper than "surface-level relationships" and wants to find "unconditional love" during his time in the pods.
2. Chris
Age: 32 | Occupation: Technical recruiter | Instagram: @christo4clemens
After six years of being single, Chris wants to "solely focus on finding love", and is looking to develop an "emotional connection before a physical one."
3. Conner
Age: 28 | Occupation: Operations manager | Instagram: @jcfremmerlid
Conner is looking for a "family oriented" woman who "loves God" and puts an emphasis on "physical touch and communication," in his search for "old school love."
4. Jack
Age: 30 | Occupation: Software sales | Instagram: @jackbonner25
Jack is looking for a "nurturing, loyal and genuine" partner who's not "too full of themselves." He hopes to find "someone who would be a great mom" in the pods.
5. Jimmy
Age: 29 | Occupation: Technical product manager | Instagram: @jpforde13
Jimmy has been "quick to judge others' actions" in the past, but in the pods he's hoping to find someone who's "not afraid to suck at something" and will "crack eggs, eat lamb and drink ouzo" with his family during Greek Easter.
6. Josh
Age: 31 | Occupation: Product engineer | Instagram: @jdemas
Josh is looking for a "down-to-earth" partner who takes the "time to listen", after feeling like it's "hard to find anything of substance" since getting out of a seven year relationship.
7. JP
Age: 30 | Occupation: Plant operations director | Instagram: @jp_schiltz
Josh "JP" wants to "take pride in her happiness" when it comes to his future wife, and says he's open to "all types" of women. However, being "unwilling to communicate" or "immature" is a major turnoff.
8. Juan
Age: 30 | Occupation: Mortgage loan officer | Instagram: @johnsonj20
Juan wants a partner who is "trustworthy, caring and smart," and looking for someone that he can "learn from and build a life with."
9. Quincy
Age: 36 | Occupation: Gym owner and fitness coach | Instagram: @qrush_sutton
Quincy's ideal partner is a "balanced, motivated and caring" woman, while his turn-offs are "cocky girls" with "attention-seeking" behaviour.
10. Ryland
Age: 29 | Occupation: Commercial insurance and real estate investor | Instagram: @rylandlongoli
Ryland says "good food and good lovin'" is the key to his heart, and hopes that his "very picky" and "very casual" attitude to dating won't let him down in the pods.
11. Amber
Age: 34 | Occupation: Flight attendant
Amber has been single for three years and is looking for an "intelligent and confident" guy with a nice smile who can be her "travel buddy" when she leaves the pods.
12. April
Age: 29 | Occupation: Sales and marketing coordinator | Instagram: @aprlking
April is hoping to find an "older, successful and tall" guy who doesn't mind that she's "annoying," and will celebrate Chinese New Years with her in years to come.
13. Ava
Age: 32 | Occupation: Communications specialist | Instagram: @avavanjenson
Ava wants to find someone who is "adventurous, empathetic and cheeky" while she's in the pods, and hopes the guy she matches with will accept her "super close" family - and her self-described "ugly laugh."
14. Bliss
Age: 33 | Occupation: Senior program manager | Instagram: @blisspoureetezadi
Bliss is looking for "someone that loves me for who I am and not for how I look," and wants them to be "strong to work through the hard times with." She said she's ignored red flags while dating in the past, and admits she's guilty of "hitting the snooze button a thousand times."
15. Brandie
Age: 39 | Occupation: Real estate broker | Instagram: @brandiebowman_
Brandie is looking for someone who values "honesty," after she spent the past three years single. She admits the her "picker is broken," because she usually goes for unavailable men.
16. Kacia
Age: 31 | Occupation: Family support specialist | Instagram: @kacia.marie
The key to Kacia's heart is "mental stimulation", and she's looking for a man who is "tall, dark and handsome" and knows what he wants, after spending too much time with guys who are "afraid of commitment."
17. Kendra
Age: 33 | Occupation: Social worker | Instagram: @kennpatrick
After nearly three years of being single, Kendra is done with "unreliable men", and her biggest pet peeve is those that "need to be prompted to say how they are feeling." She's now looking for a "thoughtful" partner who will pay attention to "things that matter to me."
18. Molly
Age: 32 | Occupation: Marriage and family therapist | Instagram: @thatmolls
Independent Molly wants to find someone who she can "have my own life outside of the relationship" with, and hoping that this "new adventure" will find her a "successful frat guy" to fall in love with.
19. Monica
Age: 31 | Occupation: Elementary school teacher | Instagram: @monica_not_lewinsky__
Monica is looking for for a husband who can make her feel "safe and accepted" and also make her laugh, after dating "all types of men" and being cheated on in previous relationships.
20. Wendi
Age: 37 | Occupation: Client lead recruiter | Instagram: @wendi.kong
Wendi wants to meet "awesome people and potentially find love", despite saying she has "no time" and is "too content" to prioritize dating. She's looking for a man who exudes "compassion, commitment and energy".
Related features:
Video of the Week
Ellie is Goodto's Feature Editor, having joined the team as a Junior Features Writer in 2022, and covers everything from wellbeing for parents to the latest TV and entertainment. Ellie has covered all the latest trends in the parenting world, including baby names, parenting hacks, and foodie tips for busy families. She has a distinction in MA Magazine Journalism from Nottingham Trent University and a first-class degree in Journalism from Cardiff University, and previously Ellie has worked with BBC Good Food, The Big Issue, and the Nottingham Post, as well as freelancing as an arts and entertainment writer alongside her studies.