Where are the Race Across The World winners now, and how can you apply to take part in the show?
Time to catch up with the previous winners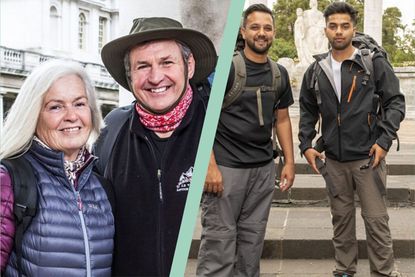 (Image credit: BBC/Future)
Sit down for a catch up with the previous Race Across The World winners, and if you've ever fancied taking part in the show, we have everything you need to know about applying.
The smash hit Race Across the World has just finished its third series, and is more popular than ever. Watching people dash across unfamiliar territory without mobiles, internet and credit cards, was always going to be fun, and social media has been awash with viewers urging their favourite teams to the final destination. Along with news of the Race Across The World 2023 winners, read on to find out where the series 1 and 2 winners are now, and what happened after they beat their fellow contestants to the cash prize. If you think you would make an amazing contestant on the show yourself, we have what you need to know about applying.
In other reality show news, the Strictly Come Dancing 2023 line up is bringing mounting excitement. Sadly, Strictly Come Dancing: It Takes Two will be looking different this time around, as host Rylan quit the popular spin-off after four years. Also on BBC One, viewers are hoping for more adventures with Anton and Giovanni, as watching them frolic around Sicily proved to be a surprise hit for the channel.
Where are the Race Across The World series 1 winners now?
Elaine and Tony Teasdale
Series 1 winners Elaine and Tony Teasdale were already retired PE teachers, and since their win have continued to travel on a budget.
The pair were inspired to take part in the show after their three children all took gap years between school and university. Elaine and Tony had gone straight from school into teacher training, then straight into work - they had travelled very little. Inspired by their time on the show, they have continued to travel in the frugal style they experienced while taking part - sometimes favouring camping and hostels over luxury.
The couple do occasionally splash out however, with Tony sharing pictures of ski holidays and drinks in rooftop infinity pools to his Instagram account - a seemingly perfect balance of budget and luxury travel for this pair. Family remains very much in their hearts, and they spend plenty of time in the UK doting on their seven grandchildren.
After winning the series, The Tab reported Elaine and Tony bought an electric bike each with the prize money, splitting the rest between their family members and chosen charities. Tony said "We invited our grandkids and three children to watch the final episodes, they didn't know we'd won so we cracked open all the champagne and got the cash out and we chucked it all up the air. The kids got what they could and we gave some to charity."
Where are the Race Across The World series 2 winners now?
Emon and Jamiul Choudhury
Series 2 winners were uncle and nephew Emon and Jamuil. Emon is a charity fundraiser and ambassador, while Jamuil is an architectural designer.
Emon's Instagram feed is jam packed with news from the marathons and races he's run, and the charities he raises money for. Most recently, he participated in the Manchester Marathon followed two weeks later by the London Marathon, raising £5000 for Motor Neurone Disease charities in the process. He received recognition for his tireless work for charity, winning a regional Pride of Britain Award in 2022.
Jamiul works as an architectural designer at CallisonRTKL, an architectural, planning and design practice. He also has a YouTube channel, where he occasionally uploads funny videos following his life and outings. He remains close to Emon, supporting him in his running on social media, sharing a picture of the two of them prior to Emon running one of his Marathons.
Who won Race Across The World series 3?
Cathie and Tricia
Tricia and Cathie won Race Across The World series 3 in May 2023, being the first couple to reach the final checkpoint - the Lighthouse on Cape Spear.
The best friends met at school aged 13, hitting it off immediately, and remaining friends ever since. Now suffering from sight loss, Tricia entered the competition with her friend to regain some confidence.
Speaking of the pair's win, Tricia said "It is just crazy madness but amazing, absolutely amazing. We've raced across the whole of Canada, with sod-all budget, eaten cream cheese and crackers, got lost in Stanley Park and we've come first. How bloody amazing is that!"
Cathie weighed in on their success, adding "I'm totally elated, I feel just total elation mixed with a bit of disbelief. I'm overwhelmed, it's incredible. I think it's the best way to say thank you to all of the people in Canada who have helped us get here. It's just unreal."
How can you apply to take part in Race Across The World?
The closing date to take part in Race Across The World series 4 has already passed, but there is a possibility it could be extended which is great news.
The official closing date was May 8, however, there is the possibility of an extension if this news is disappointing. Applications are open to all, from seasoned travellers to those who rarely leave the country. To take part, you must have a travelling partner in mind, who also needs to complete the application form.
All participants must be over 18, and be legally resident in the UK. Filming is anticipated to be carried out during September – November 2023, and you must be available for 8 weeks during this period. Your passport must be valid, with the right to travel to all specified locations for the series.
Related BBC Features:
Video of the Week
Lucy is a multi-award nominated writer and blogger with six years' experience writing about entertainment, parenting and family life. Lucy has contributed content to PopSugar and moms.com. In the last three years, she has transformed her passion for streaming countless hours of television into specialising in entertainment writing. There is now nothing she loves more than watching the best shows on television and telling you why you should watch them.