How old are the Selling Sunset season 6 cast, and who are their partners?
Some have complicated love lives to say the least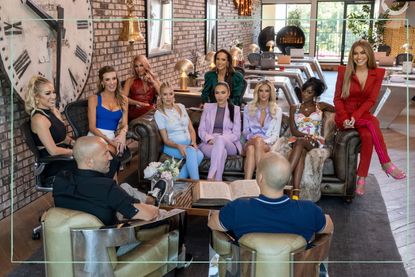 (Image credit: ITV/Future)
It's hard to tell how old the Selling Sunset season 6 cast members are, as some seem to be ageing backwards. Here we reveal their real ages, and relationship status.
Selling Sunset viewers came for the opulent, extravagant real estate on offer, and stayed for the the compelling and hugely complicated personal lives of the show's stars. A reality series like no other, Selling Sunset fans have become so invested in the cast members, that interest in their lives outside the show is at an all time high. The season 6 lineup has been shaken up a little, with the introduction of Bre Tiesi and Nicole Young; eagle-eyed fans might have worked out that Nicole isn't as much of a newbie as it appears, especially as she's earned the interesting title of the brokerage OG. If you love Selling Sunset and are hungry for more information about your favorite real estate brokers, read on for everything you need to know about the season 6 stars - including their ages and the special people in their lives.
It's not just ages and partners, we also have the lowdown on the Selling Sunset cast net worth - and it's quite envy-inducing. Brett Oppenheim left the brokerage to make even more money, but where did he go? Jason and Chrishell made quite the couple on the show, and here's the reason everything went south for the pair.
Jason Oppenheim
Age: 46 Partner: Marie-Lou Nurk
Oppenheim Group kingpin Jason Oppenheim, has reportedly been dating model Marie-Lou Nurk since July 2022. The model is thought to be around 26-years-old, giving her relationship with Jason a considerable age gap. Jason met German-born Marie Lou while holidaying with twin brother Brett in Mykonos, Greece. Marie-Lou, who now calls Paris home rather than her native Germany, didn't know who Jason was when they first met.
Jason recently caused a social media storm after sharing a picture of himself and Marie-Lou to Instagram, where they appeared to be newly married. Depicted walking hand-in-hand with Marie-Lou, who was donning a white dress, and with Jason looking delighted in a casual suit, the photo certainly gave a post-nuptials vibe. However, Jason quickly stepped in to dispel any rumors, commenting "Clearly these photos are confusing people. Sorry about that. We did not get married. These are from an event that we went to together a few weeks ago."
Chrishell Stause
Age: 41 Partner: Married to G Flip
Chrishell met musician G Flip during Halloween 2021, and on May 11 of this year the couple revealed they'd married in Las Vegas. There had been no official engagement, and the couple rectified this by quickly getting engaged on the plane on the way to their wedding. G Flip (real name Georgia Claire Flipo) is 29-years-old, and hails from Australia. The non-binary musician sings, and plays multiple instruments.
Announcing the couple's nuptials, Chrishell shared an Instagram reel with the caption "Love doesn't always go as planned… Sometimes it's immeasurably better. If you ever get the pleasure of meeting G, know that you are meeting one of the kindest, funniest & most talented hard working people out there. I love you so much @gflip."
Chrishell was previously in a relationship with Jason Oppenheim in early 2021, and was married to This Is Us actor Justin Hartley between 2017-2021. The pair had actually separated in 2019, with the divorce not finalized until 2021. Hartley has now moved on with actress Sofia Pernas, to whom he is now married.
Mary Fitzgerald
Age: 42 Partner: Married to Romain Bonnet
Mary married Romain, who hails from France, in March 2018. Romain originally worked as a pastry chef, but now works as a project manager for the Oppenheim Group; he oversees construction and listing renovations. The relationship between the pair has been fiery, continuously hounded with split rumors. This has been compounded by a 13-year age gap, with Romain being significantly younger than his wife, and Mary's friends believing he wasn't mature enough for her.
Mary has one son from a previous relationship. Austin is now 26-years-old, and Mary gave birth to him when she was just 16. She has spoken of wanting children with Romain, but put plans on hold due to life and work being too busy. However, she sadly reported in April this year that she had suffered a miscarriage after falling pregnant naturally - she had previously frozen some eggs in case fertility assistance was required for the couple to have a child.
Heather Rae El Moussa
Age: 35 Partner: Married to Tarek El Moussa
Tarek El Moussa is a 41-year-old real estate investor and television presenter. He is largely known for co-hosting HGTV's Flip or Flop with ex-wife Christina Hall - the former couple share two children together. Divorcing Christina in 2018, Tarek began dating Heather in 2021, with the pair marrying in 2021 at the Rosewood Miramar Beach Hotel in Montecito. As both are stars of the reality genre, it came as no surprise when the wedding was covered by Discovery+, in a special named Tarek and Heather: The Big I Do.
In July 2022, Heather announced the pair were expecting their first child together, and her burgeoning bump can be seen throughout Selling Sunset season 6. Their son Tristan Jay El Moussa, was born on January 31 this year. Sharing the news on Instagram, Heather wrote: "We'd like to introduce Tristan Jay El Moussa to the world. 6:55am 1-31-23 7lbs 7oz. Tristan was the name that Tarek was supposed to have, Jay is my dads middle name & 4 generations of Jay."
Chelsea Lazkani
Age: 30 Partner: Married to Jeff Lazkani
Jeff is 40-years-old, and managing partner for Icon Media Direct, a business involved with media planning, to ensure clients find and reach their target audiences. Chelsea Lazkani is British-Nigerian, who met her husband during a holiday to Los Angeles in 2015. Moving to the US to make LA her permanent home, Chelsea married Jeff on August 12, 2017.
In the same year she married, Chelsea obtained her realtor license. While living in the UK, she studied Economics at the University of Birmingham before gaining a Masters in Oil and Gas Economics from the University of Dundee. The couple share a son Maddox Ali Lavon, and daughter, Melia Iman. Jeff knew Jason Oppenheim through work, and introduced him to his wife. Chelsea was a huge fan of Selling Sunset, and was delighted to score a place on the cast.
Amanza Smith
Age: 45 Partner: Single
Amanza Smith previously married Ralph Brown in July 2010. Giving birth to daughter Noah and son Braker a short time later, her marriage to Ralph came to an end in 2012. According to US Weekly, Amanza has had no contact with her former husband since September 2019. The reality star said "My ex-husband and I have been divorced since my kids were 1 and 2. And Daddy's a great dad, he's very present, but over the past couple of months stuff has really hit the fan and he's basically just off the grid. And we don't really know what's going on. I just don't have answers for them."
Amanza went on to date Dutch soccer player Ryan Babel. However, after nearly 3 years together, the couple split at the end of 2022. Amanza cited their conflicting schedules and the distance between them as reasons for the split - Ryan lives in the Netherlands for his job. Amanza also has her full time career and two children to focus on, and the pair were unable to make a relationship work.
Emma Hernan
Age: 31 Partner: Single
Emma was previously in a relationship with project developer Micah McDonald. The pair met when Emma took on a listing being developed by Micah, and audiences instantly noticed an attraction between them. After agreeing to go on a date with him, Emma said "I usually don't mix business with pleasure, but Micah's a little bit different. Not only is he attractive and successful and confident, but we actually have a lot in common. I mean, basically, he's just, like, check, check, checking every damn box."
However, the relationship didn't last and Emma split with Micah sometime in 2022. In an Instagram post added in April this year, she teasingly posted a picture of herself to Instagram donning a tiny bikini, with the playful caption "Swipe to see my boyfriend!" Swiping reveals a picture of Emma with her dog, smiling broadly, and apparently confirming her single life.
Nicole Young
Age: 37 Partner: Married to Brandon Young
Nicole has been married to Brandon Young since 2017. Brandon appears keen to maintain a level of mystery, with his own social media accounts set to private. Nicole occasionally shares photos of herself and Brandon together, and on the rare times she does, offers suitably gushing words for her husband. To celebrate his birthday back in 2020, Nicole wrote on Instagram "Happy birthday to my BEAUTIFUL husband @therealplanb!! You are truly my better half. You are incredibly patient, generous, thoughtful, loving, witty and wise and I am so lucky to be your wife. Oh and no one on this planet looks better in a suit than you."
The couple don't have any children, but share two dogs together - the pooches get plenty of space made for them on social media. Nicole has recently limited comments on her posts due to online trolling. Believing Selling Sunset portrayed her in a negative light, she called out those who have made hurtful comments, while thanking the real friends who have stood with her. Nicole has been with the Oppenheim Group since 2014, but has chosen to stay away from the limelight of the show until now. It's sad that her foray into the cast has resulted in such a blow to her confidence.
Bre Tiesi
Age: 32 Partner: Nick Cannon
Bre and 42-year-old Nick Cannon met when Bre appeared on Wild n' Out, the game show hosted by Cannon. They have been dating ever since, and welcomed son Legendary Love Cannon together in July 2022. The pair have an open relationship they choose not to define, although do maintain respect and honesty with one another relating to what goes on outside the pairing. Nick has 12 children with 5 women, welcoming a daughter with another woman just 2 months after Bre gave birth to their son.
Bre was formerly married to American football player Johnny Manziel, tying the knot in 2018. The short-lived marriage came to an end in 2019, amid rumors Manziel had cheated. Bre appeared to harbor no bad feelings towards her former husband, taking to social media to wish him the best once their divorce had been finalized.
Related Features:
Video of the Week
Lucy is a multi-award nominated writer and blogger with six years' experience writing about entertainment, parenting and family life. Lucy has contributed content to PopSugar and moms.com. In the last three years, she has transformed her passion for streaming countless hours of television into specialising in entertainment writing. There is now nothing she loves more than watching the best shows on television and telling you why you should watch them.