Best Nespresso Black Friday and Cyber Monday deals in stock 2022
Here are the best Nespresso Black Friday and Cyber Monday deals - the mus-have pod coffee machine brand for 2022...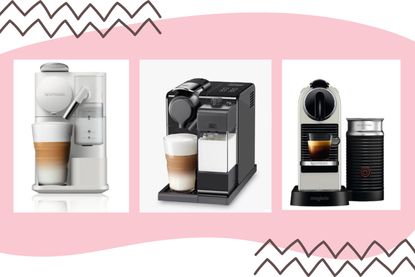 (Image credit: Future / Nespresso)
One of the most popular, sought-after brands of coffee machines, Nespresso has jumped on the Black Friday and Cyber Monday bandwagon with a range of deals at your fingertips.
Nespresso is a popular brand amongst coffee lovers particularly if you're looking for a high-quality, easy-to-use pod coffee machine that allows you to try a variety of different coffees at just the press of a button.
We've searched high and low for the best deals and discounts across a range of different online retailers, from Amazon to Currys, from AO.com to John Lewis.
And Nespresso isn't the only coffee machine brand that we've seen discounted this year so far; De'Longhi Black Friday deals (opens in new tab) are proving popular - alongside brands such as Tassimo, and Breville, which have some of the best Black Friday coffee machine deals (opens in new tab) , and Black Friday espresso machine deals (opens in new tab) out there for 2022.
Where to find the best Nespresso Black Friday / Cyber Monday deals
Best Nespresso Black Friday and Cyber Monday deals 2022
Black Friday / Cyber Monday Nespresso Vertuo deals
Black Friday / Cyber Monday Nespresso coffee pod deals
Is Nespresso a good brand?
"A Nespresso coffee machine is a great choice if you're looking for a mess-free option at that. Nespresso machines need specifically designed 'Vertuo' pods which you attach to the machine to make the coffee at the press of a button," says Food Editor, Jessica Dady, who voted the Nespresso coffee machine brand one of the best pod coffee machine brands for 2021.
Nespresso has some great, slim-designed models which shouldn't take up much room in the kitchen. All are compatible with Vertuo pods and you have over 30 to choose from.
Their sleek, modern design and slim-line look make them perfect for even the smallest kitchen. Nespresso pride themselves on producing high-quality machines that bring barista-style coffee to the comfort of your own home with just a few clicks and a nifty Vertuo coffee pod or two.
How do pod coffee machines work?
Pod coffee machines are a great option if you're looking for a mess-free way to enjoy coffee. Pod machines are compatible with a range of coffee pods which you will need to research beforehand to make sure you buy the correct ones, and you can afford to buy them going forward.
Using a pod coffee machine is fairly simple, however like most kitchen appliances particularly if you've not used them before, it's best to read the instructions before you start.
To use a pod coffee machine all you have to do is load the pod into the machine, press the button and you've got coffee - be it a latte, mocha, or espresso.
It's great for trying a range of coffees however you are limited to whatever pod range you choose to go with, you need to ensure that you top up your pod supply on a regular basis which means money and you also need to find out how to recycle your pod packaging correctly to ensure less waste.
Best value Nespresso coffee machines to buy on Black Friday and Cyber Monday
If you're looking for a coffee pod machine that will go the distance, say hello to the Nespresso CitiZ & Milk 11317 Coffee Machine by Magimix. This model has been praised for its compact design, integrated milk frother, and two programme buttons. The automatic energy-saving function ensures the machines switch off after 9 minutes of inactivity.
Goodto.com reviewer, Ionie Britton says: "This coffee machine has been with me for many years and performs just as good as it did when I first purchased it, which is impressive considering how often it's in use. I love the design, colour, and how easy it is to descale (Nespresso has really helpful videos to follow making it a quick process). The wide selection of coffee available is also such a bonus, especially at Christmas."
---
The coffee machine doesn't skimp on flavour to give you a longer brew than your classic Nespresso machine with just Espresso and Lungo options. With three distinct capsule sizes, one machine can make five coffee sizes, fitting Alto, Mug, Gran Lungo, Double Espresso, and Espresso pods. The Nespresso Vertuo Plus also includes a naturally formed crema for large cups and traditional espresso, as well as high-efficiency options provided by the simple 1-button operation and automatic capsule ejection.
Features Writer Kudzai Chibaduki says: "Coffee machines of this quality aren't to be missed, as they guarantee a perfect in-cup finish every time and there's a huge array of roasts, notes, and flavours within the Nespresso Vertuo pod range."
---
Not only would this Nespresso coffee machine make you delicious coffees each morning, it will also look the part with its sleek, and modern finish sitting on your kitchen counter. The machine takes pods, with a 12-pod welcome pack including Instenso and Carameliz0 pods, so the moment it arrives you can whip up the perfect brew. This particular model has been rated an average of 4.1 stars out of 5 by Amazon customers.
Lifestyle News Writer, Naomi Jamieson says: "This machine is seriously convenient with its one-button operation and automatic capsule ejection. It's no wonder Amazon shoppers love this machine, applauding it in hundreds of rave reviews."
---
Top tips for buying a Nespresso coffee machine on Black Friday and Cyber Monday
One of the main things to keep in mind when buying a Nespresso coffee machine on Black Friday is to first know exactly what brand, model, and type of machine you are looking at purchasing. Will it fit where you want it to? Does it tick all the boxes for you and your family? Once you know exactly what you're looking for, it will make Black Friday purchasing easier.
Shopping around and looking at a range of deals across a range of retailers is also a good thing to keep in mind, especially once you've narrowed down the make and the model then you can compare prices across different sites or stores.
Read reviews and ask around to get other people's opinions on the machine you've chosen. It's a great way to get real truths about the coffee machine before you buy it. And if you're strapped for cash this year, choosing an older model of Nespresso coffee machine could be a good option too as older models tend to have a more discounted price.
Best Black Friday and Cyber Monday Nespresso deals from last year
Last year we saw retailers such as Amazon, Currys, and AO.com selling Nespresso at a discount price, however, the savings weren't as impressive as in previous years looking back at 2019 and 2020 where we saw an influx of Nespresso coffee machines with massive savings across a large range of models.
The Nespresso Vertuo coffee machines and older models tend to be hit with the biggest discounts so if you're looking to bag yourself a bargain and you're a little tight on cash this year, an older model might be a good choice.
Related Black Friday features:
Video of the Week