Macmillan Coffee Morning: 32 of the best recipes and ideas
We all love a slice of cake with a cup of coffee, which is why we're so excited about Macmillan Coffee Morning. If you're planning your own coffee morning or sale, here are 30 cakes and bake recipes for inspiration...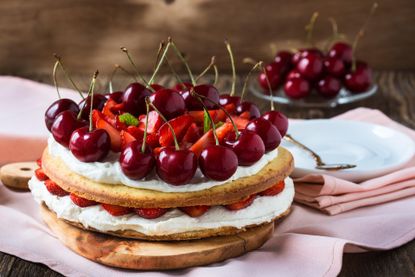 (Image credit: Future)
We all love a slice of cake with a cup of coffee, which is why we're so excited about this year's Macmillan Coffee Morning.
Raise money, awareness and have a nice time catching up with friends and family by hosting a Macmillan Coffee Morning this September.
From tray bakes to cupcakes, we've rounded up some of our favourite treats to whip up and share with loved ones.
This year, the Macmillan's Coffee Morning campaign starts from Friday 24 September, but you can hold your own at any time. The charity uses the proceeds to support the growing number of people living with cancer across the UK. Sign up at coffeeregister.macmillan.org.uk
Macmillan Coffee Morning recipes and ideas
Mary Berry's lemon drizzle cake
Mary Berry's classic lemon drizzle cake recipe is one of our most popular recipes and you'll soon see why! It's cheap, quick and easy and something all your friends and family will love tucking into...
Get the recipe: Mary Berry's Lemon Drizzle cake
Mary Berry's chocolate cake
You can't go wrong with a rich and creamy chocolate cake with a light fluffy sponge. Mary Berry's chocolate cake will certainly have people talking.
Get the recipe: Mary Berry's chocolate cake
Chocolate brownies
The perfect option if you're feeding a lot of people in one go as this mouthwatering chocolate brownies recipe makes 24. Made with melted chocolate.
Get the recipe: Chocolate brownie recipe
Chocolate mocha coconut muffins
We just love these chocolate mocha coconut muffins and we think your friends and family are going to love them too! Sell for 50p-£1 for each muffin and you'll make some good money for Macmillan.
Lemon and vanilla fairy cakes
Watch these pretty little lemon and vanilla fairy cakes disappear in minutes. They're really easy to make and you can make a large batch in one go too!
Battenburg cake
Battenburg cake is having a revival thanks to The Great British Bake Off, so why not put your baking skills to the test by making your own? You'll never want to buy Battenburg from the shops again.
Pear and blueberry cake
Pears are in season and work really well in cakes, like this lovely pear and blueberry cake. It's super-easy to make and is packed full of fruit.
Peanut butter swirl brownies
Who can say no to a brownie? Quick and simple to serve up, the chocolate in these peanut butter swirl brownies is brought alive by the saltiness of the nuts. Delicious!
Coffee and walnut cake
You can't have a coffee morning without a big slice of coffee cake!
Perfect for small gatherings with friends and bigger bake sales alike,
this coffee and walnut cake makes the ultimate coffee cake.
Violet cream cupcakes
These fancy violet cream cupcakes are a more sophisticated treat to sell at your coffee morning. Serve on vintage plates with little forks to complete the look.
Carrot cake
Carrot cake is always a popular choice with hungry hoards. Watch this carrot cake, with simple but effective decorations, fly off the plates.
Pistachio and white chocolate cookies
Cookies are another great option to serve with a pot of coffee. There's
an endless amount of versions you could create to wow your guests, but
we love these white chocolate and pistachio ones.
Cherry and vanilla sponge
A classic Victoria sponge cake is guaranteed to go down well and this cherry and vanilla sponge adds an original twist on the family favourite that your guests will love.
Chocolate chip cookies
Make up a few batches of these chocolate chip cookies for those who fancy a biscuit with their cuppa. Ready in just 30 mins.
Chocolate chip cookies
Why not serve up a batch of muffins at your coffee morning? You could go
for a sweet or savoury filling, but we think these seasonal blueberry muffins will go down a storm.
Mocha cupcakes
Continuing with the coffee theme, these mocha cupcakes by AWT will leave people begging for the recipe - they're a real mid-morning treat.
White chocolate and raspberry blondies
Made with white chocolate, these white chocolate and raspberry blondies are an airier alternative to brownies.
White chocolate and blackberry cupcakes
These classy white chocolate and blackberry cupcakes by goodtoknow's cupcake queen Victoria Threader would look good on any bake sale table.
Upside-down chocolate pear pudding
Wow, look at the pretty pattern on this upside-down chocolate pear cake. It looks too pretty to cut up, but your guests will soon be demanding that you do.
Carrot cake muffins
Making a change from slices of carrot cake, these carrot cake muffins will melt-in-the-mouth thanks to their honey spread and cream cheese topping.
Apple crumble tray bake
Apples are another great seasonal fruit to incorporate into some of your bakes. This apple crumble tray bake combines a soft sponge, sweet cinnamon infused apples and a crumbly topping together to make one delicious treat.
Simple cinnamon whirls
These cinnamon whirls are yeasty buns made using a pizza-base mix for speed and ease, with a buttery cinnamon flavoured filling. Perfect with a steaming mug of coffee.
Gluten-free coconut cookies
Gluten-free diets can be tricky to cater for without the right recipes.These fab coconut cookies are the perfect solution for your gluten-free guests - they can dunk them into their coffee!
Flapjack fingers
How about making some flapjack fingers? A great source of slow-release energy, you'll be surprised how many people pick them over cakes!
Banana bread
A fat slice of banana bread is the perfect side to a rich coffee. Simple yet timeless, you can make this recipe in advance and slice on the day.
Millionaires shortbread
Oh we do love a Millionaire's shortbread especially when it's this easy to make. Follow our recipe for perfect squares every time.
Lemon tart
This tangy lemon tart has just the right balance of sweet and sour to make it appropriate for a mid-morning treat.
Plum cake
Topped with crumble, this plum cake is a comforting bake for when the temperature drops and you're in need of something sweet.
Babka with chocolate and pecans
This sweet enriched loaf, otherwise known as a babka is a trendy confection all the way from Eastern Europe. We've used a chocolate and pecan filling to make our babka really luxurious!
Elderflower and lemon drizzle cake
Try this classy elderflower and lemon drizzle cake for an impressive centre piece at your coffee morning or on the cake stall.
Blueberry cheesecake
You can't go wrong with a classic blueberry cheesecake . Alter the recipe with strawberries, raspberries or a mix to suit your tastes.
Gingerbread cubes
These flavoursome gingerbread cubes can be made up to a month in advance and frozen, just defrost and ice on the day - simple!
Where do you Macmillan donations go?
The average Coffee Morning raised £280 in 2018, which is enough to fund a Macmillan nurse for a whole day.
£20 could help the frontline staff on our Macmillan Support Line deal with a call or web enquiry
£30 could Pay for a Macmillan nurse for 1 hour, helping people living with cancer and their families receive essential medical, practical and emotional support
£100 could lead to our welfare rights advisers on our Macmillan Support Line helping people affected by cancer to claim £4,231 in benefits they are entitled to
£200 could pay for a Macmillan Grant that helps a person living with cancer heat their home when they really need to
£1,000 could pay for a Macmillan nurse for a week - helping people living with cancer and their families receive essential medical, practical and emotional support
Sibelle Mehmet is a Junior Digital Writer at Goodto.com. She joined the team in April 2019 and was her first job since completing a MA in Magazine Journalism at City, the University of London in the summer of 2019. Sibelle previously interned at a number of national titles including OK!, Heat, Closer, Mother & Baby, and The Times Newspaper magazine. She's written extensively about the latest celebrity, showbiz, and royal news.