Are Melinda and Layton still together? MAFS Australia season 10 update
Has the MAFS couple gone the distance?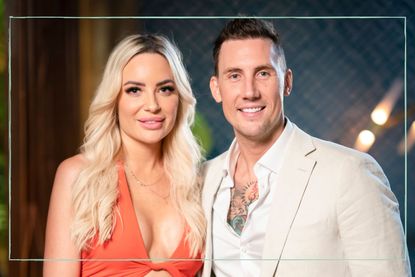 (Image credit: Channel 4)
Season 10 of Married at First Sight Australia has landed in the UK (opens in new tab), and viewers want to know if Melinda and Layton are still together.
Reality TV fans are tuning in to the weddings, honeymoons and oh-so-dramatic dinner parties that we all know and love from Married at First Sight, and already everyone's asking who has stayed together from the series. Whether it's mismatched Melissa and Josh (opens in new tab), Lyndall and Cameron (opens in new tab) - who seemed to hit it off straight away - or Harrison and Bronte (opens in new tab) - who had a tense wedding day after a shock revelation from on of Bronte's friends - we're all curious about the fates of the season 10 couples.
Another pair that's caught the eye of viewers is Melinda and Layton. Both career-driven company owners, these two have a lot in common and were expected to hit it off right away. But the wedding was a tense affair, so it's no surprise that everyone's asking if Melissa and Layton are still together.
Are Melinda and Layton still together?
We think so! While neither Melinda or Layton have confirmed their relationship status while the show is still airing, they have been spotted out and about together on several occasions recently - suggesting that they're still going strong.
On Melinda's birthday earlier in March, the MailOnline (opens in new tab) reported that she and Layton had been spotted at a restaurant in Whale Beach, Sydney, and paparazzi photos showed the couple holding hands. More recently, the pair were spotted heading for a workout together.
It's unlikely we'll know for sure if Melinda and Layton are still together until the series finishes, however, so eager fans will be kept in a suspense for a little longer.
What happened between Melinda and Layton on MAFS Australia?
Despite things looking promising for the couple post-filming, Melinda and Layton's relationship of MAFS Australia was anything but smooth.
On their wedding day, Melinda was left unimpressed by Layton, particularly his physical appearance. She said at the time: "First impressions… he may be punching just a little. I would swipe left. I'm a 9 and a half… on a bad day. My usual type is more…tall, dark, handsome, European, chiselled."
After Layton's wedding vows hinting he was "from money", Melinda was further deterred from her new husband.
However, it seems as though the couple has worked hard to overcome their early issues. Both Melinda and Layton have been keeping their Instagram followers up to date with their MAFS journey, and Melinda recently posted a video of the the pair (opens in new tab) dancing together, with the caption, "Melly and Layton behind closed doors most nights of the experiment. Candles on, wine and dancing 🥰".
Where is Melinda Willis now?
Melinda's beauty business, Feather Sisters, remains a priority for the CEO, and the company recently posted a video (opens in new tab) on Instagram of Melinda giving a tutorial for one of their eyebrow products.
It's also been reported that Melinda has hired her MAFS co-star Caitlin McConville, who had previously worked as a makeup artist but gave up her job to appear on the show.
According to the Express (opens in new tab), Caitlin now works at another of Melinda's businesses called Melly's Beauty Parlour, which specialises in eyelash extensions, lash lifts, brow lamination, waxing and tinting.
The friends were recently spotted by MailOnline (opens in new tab) in Brisbane while on their lunchbreak together.
Where is Layton Mills now?
Layton has been keeping quiet on social media while Married at First Sight airs, save for posting some snippets from his time on the show - including a number of sweet behind-the-scenes selfies with Melinda.
He' definitely a jet-setter though, as pictures on his Instagram (opens in new tab) from before the series aired show him in a number of different tourist spots across the world, including Singapore, Miami, South Africa and Paris.
Related features:
Video of the Week
Ellie joined Goodto as a Junior Features Writer in 2022 after finishing her Master's in Magazine Journalism at Nottingham Trent University. Previously, she completed successful work experience placements with BBC Good Food, The Big Issue and the Nottingham Post, and freelanced as an arts and entertainment writer alongside her studies. In 2021, Ellie graduated from Cardiff University with a first-class degree in Journalism.