Are Evelyn and Rupert still together? MAFS Australia season 10 update
Did the nervous groom and model make it?!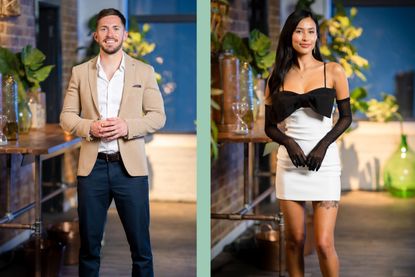 (Image credit: Future/Channel4)
She was initially turned off by her ULTRA nervous groom, so it's not surprising that viewers want to know if Evelyn and Rupert are still together.
This year's Married at First Sight Australia has had viewers glued to screens as the season 10 cast deliver drama after drama. There's been a cheating scandal, a butt dial and two late additions to the experiment - Tayla and Hugo and Evelyn and Rupert. It's the latter couple who have proven to be more smooth sailing than the first, but whilst Evelyn and Rupert's relationship seemed friendly, did it have that romantic spark?
Much like people want to know if Melinda and Layton and Harrison and Bronte are still together ahead of the Married at First Sight reunion, others are asking whether Evelyn and Rupert are still together today. We give an update on their relationship status and delve into their MAFS journey to date, amid the rumours that Evelyn and Duncan are now together...
Are Evelyn and Rupert still together?
Sadly Evelyn and Rupert are not together anymore. The couple called it quits during final vows, during the last week of the show experiment.
During the final vows ceremony, Evelyn told Rupert: "It took you six weeks to take me on a single date.. and that was only when I asked you and that says a lot. Someone who sees my worth would have put his ego aside and fought for me, as I fought for you every single day in this experiment. So for this reason, I choose not to continue on this relationship."
Nerves got to the better of Rupert again, who tripped over his words at final vows, before agreeing: "I've had such a fun time with you and would not have chosen anyone else to do this experiment with. But to be honest, a platonic connection alone is not enough to sustain a healthy and loving relationship.
"I feel I have truly tried to build this foundation with you but the pressure was only on me. As I didn't think you were putting your best foot forward to progress this relationship."
The two shared a kiss and ended on a friendly note. As Evelyn walked away, she explained how she didn't think Rupert was a bad person, it was simply that the two "weren't right for each other".
Speaking on why he think the relationship didn't work post-show, Rupert said that he though their "communication is a lot different". "It was one of those things where Evelyn sometimes got a bit angry and i'm much more chilled and blase," he added.
What happened between Evelyn and Rupert on MAFS Australia?
Evelyn and Rupert were one of two couples to enter the experiment at a later date. Fellow MAFS couples Ollie and Tahnee, Lyndall and Cameron and Janelle and Adam were present at Evelyn and Rupert's wedding day - which was certainly a memorable one.
It's safe to say Rupert was nervous on the big day, dropping the wedding rings and rendered speechless when Evelyn joined him at the altar. The awkwardness continued post-wedding day and into the honeymoon. Viewers cringed as Rupert's attempt at a sensual massage was anything but - and then during a romantic bath together, Rupert exited early claiming he was too hot.
Intimacy week brought the change the couple needed, with the two connecting during the cuddle challenge. Rupert also proved to have Evelyn's back following the butt dial drama.
Evelyn heard some questionable comments from the grooms when Rupert accidentally pocket dialled her whilst on a boys' night out. Evelyn went on to expose the trash-talking gooms - Hugo and Dan - during a dinner party. Harrison however continued to suggest that the butt dial was entirely fake - leaving Rupert no option to speak out and defend his wife.
After the home visits, the couple grew closer again, with Rupert getting on well with Evelyn's dogs Mustard and Pickle. At the commitment ceremony after, the two confirmed that they had finally been intimate with each other too.
However, the home stay also saw the couple at odds when Evelyn's mother asked about living arrangements in the future. Neither Evelyn nor Rupert were willing to relocate.
In the last commitment ceremony, Evelyn declared that she still needed more from Rupert and felt like she was the only one bringing effort to the relationship. The final vows followed with the two parting ways - albeit on friendly terms.
Where is Evelyn Ellis now?
Evelyn remains in Sydney and according to reports has moved on with someone new. Several sources have claimed that Evelyn is now dating fellow MAFS contestant Duncan James.
In April 2023, the two were seen dancing together in a Sydney night club. A topless Duncan was seen lifting Evelyn up at one point. The month prior, fans suggested Duncan and Evelyn looked close at her viewing party.
Evelyn and Duncan all but confirm they are together as they grind up against each other in a nightclub... new hookup, partner swap #MAFS #MAFSAU #MAFSAustralia https://t.co/zQeA7GhoehApril 3, 2023
See more
Confirmation that the two are dating came in episode 272 of the So Dramatic! podcast. "Rupert has confirmed to a number of cast members that Evelyn and Duncan are now dating. He said they both contacted him separately and asked him if they could have his blessing to progress to a romantic relationship," the source said.
Evelyn has since spoken out and insisted that she and Duncan are actually "just friends". Shedding light on the photos of them out and about, she said "it was nice to go out and have some fun". Interestingly though, the 26-year-old hasn't ruled out a future relationship, stating that the pair "haven't explored any connection" yet.
Whether together or not, one thing's for sure, the two of them would make very attractive babies.
Where is Rupert Bugden now?
Rupert has been hanging out with fellow MAFS couple Ollie and Tahnee, who he struck up a close friendship with during the show. A recent Instagram post shows photos of him enjoying a drink with the couple and other friends.
"Enjoy a few from the past month and always eat the cake," read the post caption. The Daily Mail also published photos of the three hanging out in March 2023, with Rupert playing 'third wheel' to Ollie and Tahnee.
Rupert and Evelyn have also hung out together since the show - though it's purely platonic. A TikTok video shared by boutique cosmetic clinic, The Cosmetic Lounge, showed the two getting botox together. They captioned the post: "We loved having these two drop in! You're welcome back whenever you like!"
Related features:
Video of the Week
Emily Stedman is the former Features Editor for GoodTo covering all things TV, entertainment, royal, lifestyle, health and wellbeing. Boasting an encyclopaedic knowledge on all things TV, celebrity and royals, career highlights include working at HELLO! Magazine and as a royal researcher to Diana biographer Andrew Morton on his book Meghan: A Hollywood Princess. In her spare time, Emily can be found eating her way around London, swimming at her local Lido or curled up on the sofa binging the next best Netflix show.