Are Ollie and Tahnee still together? MAFS Australia season 10 couple update
Did the young lovebirds go the distance?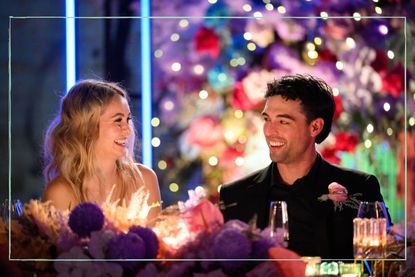 (Image credit: Channel 4)
They're the youngest bride and group in the experiment. We share whether Ollie and Tahnee are still together in 2023.
Married at First Sight Australia 2023 is in full swing, with episodes dropping weekly on E4 much to the delight of longstanding fans. Whilst couples like Bronte and Harrison, Melissa and Josh and Claire and Jesse have been delivering the drama so far, there's been other matches whose relationship has been smooth sailing. Much like Lyndall and Cameron, husband and wife team Ollie and Tahnee hit it off from the get go and have seemingly gone from strength to strength on the show.
Just as people wanted to know the fate of several Married at First Sight Australia season 9 couples - fans are wanting details on whether Ollie and Tahnee are still together following the Married at First Sight reunion. We've shared an update on their relationship status and details of what they are up to now.
Are Ollie and Tahnee still together?
Yes! Ollie and Tahnee are very much still together in 2023. In fact, the two have even taken the next step in their relationship and moved in together. According to Daily Mail Australia, Perth-based Ollie Skelton made the move to Sydney to be with Tahnee Cook, who works as a PR manager near Bondi Beach.
Pictures showed Ollie arriving at Sydney airport with four large suitcases in February 2023 - much to the delight of his wife. A source told the publication: "Ollie's already secured a job in Sydney and in it for the long haul." They added, "Ollie and Tahnee spent New Year's together and have met each other's families. They are truly mad for each other. Ollie packed up his life in Perth to be with her."
A week later Yahoo Lifestyle published photos of the two together and holding hands whilst out and about in Bondi. Ollie and Tahnee also shared a kiss whilst waiting at a pedestrian crossing - confirming their continued happiness and relationship status.
A source said: "Once filming wrapped in December, Ollie never really returned to Perth and has been living with Tahnee ever since."
In March 2023, post-filming, Tahnee opened up on how she feels pressure from viewers for her and Ollie to succeed.
"It's a lot of pressure from people putting us up on a weird pedestal because they see us on TV and they're like, 'Oh my god they're so cute I want them to work out'," she told Yahoo Lifestyle. "Seeing that we're like, we don't want to live up to this high expectation of people. But it's nice that people feel that way about us."
What happened between Ollie and Tahnee on MAFS Australia?
MAFS Australia fans will no doubt be delighted to learn that Ollie and Tahnee are still together - with the pair of them being one of the strongest couples on the show. The two hit it off straight away on their wedding day and their relationship went from strength to strength as the experiment continued.
They remained pretty drama-free throughout the experiment, both choosing to 'stay' at every commitment ceremony and winning the support of the dating experts on the couch.
The couple's Final Vows episode certainly left some viewers emotional. Tahnee told her husband: "It's crazy to think we were only strangers a few months ago and now to see how far we've come it's hard for me to picture what life would look like without you in it.
"Ollie I am falling in love with you and I can't wait to see what the future has in store for us."
Ollie similarly showed words of love and affection on his bride in his final vows. "This is not the end of our experiment, we're just getting started," he said. "Am I falling in love with you? Yep! And I'm excited to confirm these feelings outside of this experiment."
Are Ollie and Tahnee related?
Yes, Ollie and Tahnee are very distantly related. It turns out that Tahnee's sister's husband is Ollie's second cousin. The revelation came to light on the couple's wedding day, but was never aired on MAFS Australia.
Tahnee confirmed the connection to Yahoo Lifestyle and shared how the families figured it out on the day.
"Ollie's mum looked over and she saw my sister's fiance Jasper and she said, 'I know you! Your dad is my cousin!," she said. "And then she started freaking out being like, what if the bride is Jasper's sister? Because then we'd literally be blood related.
"She was going up to producers being like, 'Is that guy blood related to the bride because we're going to have an issue if so'."
The two are not blood related and Tahnee has put it down to being a 'wild coincidence'.
Where is Tahnee Cook now?
Tahnee is currently living in Sydney with husband Ollie. It's not clear if she has returned to her PR and content creation job, based in Bondi.
Most recently Tahnee was spotted attending Melbourne Fashion Week with fellow MAFS bride Claire Nomarthas. The two secured seats at designer Pablo Sebastian's show in early March and posed alongside reality TV stars Phoebe Spiller and Claudia Bonifazio of Love Island fame.
And she's also still friends with fellow MAFS cast members Melinda and Layton, and was spotted back in December on a double date with the couple and husband Ollie at the the Van Gogh Alive multi-sensory exhibition.
Where is Ollie Skelton now?
Ollie Skelton is currently living with wife Tahnee in Sydney, New South Wales, and has shared plenty of sweet photos with his wife on his Instagram.
Previously, Ollie opened up to Who Magazine about what the future holds for him and Tahnee, saying: "We're in our mid-20s, so we've definitely got some time up our sleeves! We're just living in the moment and getting through what's left of the experiment."
He added: "Having a friendship with your partner builds a foundation to have a really secure bond. There have been times during the experiment when we've disagreed, but we try to focus on being open and communicating."
Related features:
Video of the Week
Emily Stedman is the former Features Editor for GoodTo covering all things TV, entertainment, royal, lifestyle, health and wellbeing. Boasting an encyclopaedic knowledge on all things TV, celebrity and royals, career highlights include working at HELLO! Magazine and as a royal researcher to Diana biographer Andrew Morton on his book Meghan: A Hollywood Princess. In her spare time, Emily can be found eating her way around London, swimming at her local Lido or curled up on the sofa binging the next best Netflix show.