Are Claire and Jesse still together? MAFS Australia season 10 update
It hasn't been a smooth ride for this couple...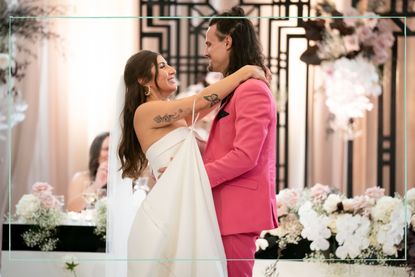 (Image credit: Channel 4)
This couple have had a dramatic journey on the latest season of Married at First Sight Australia, so it's no surprise viewers want to know if Claire and Jesse are still together.
Married at First Sight Australia is back on our screens, bringing all the drama of the weddings, honeymoons and dinner parties with it. And one couple that have had more than their fair share of the action is Claire and Jesse. Though the wedding day saw the pair form a connection, in episodes since there has been a number of heated arguments and cheating allegations too.
Just like fans of the show are eager to know if the season's strongest couple Lyndall and Cameron are still together (opens in new tab), if Melinda and Layton are still together (opens in new tab), or if another couple that have struggled with drama - Harrison and Bronte (opens in new tab) - are still together, now viewers are wondering if Claire and Jesse are still together. *Warning*, there's some serious spoilers ahead...
Are Claire and Jesse still together?
No, Claire and Jesse are no longer together. The couple called it quits while they were still taking part in the show, when both decided to leave during one of the commitment ceremonies.
Their shock exit came after Harrison revealed he thought Claire was on the experiment to fix her image - after she admitted kissing another cast member - rather than develop a relationship, which caused Jesse to seriously doubt their connection.
Jesse said in the commitment ceremony: "Claire cheated on me. I have stretched myself so much. I came into this saying that my fight or flight kicks in real quick and I'm quick to end things early on so I really stretched myself...but this comment really brought back a lot of things that I had been pushing to the side."
He added: "I think the straw that broke the camel's back was a comment made by Harrison."
Claire agreed, telling the experts, "I think it definitely came from Harrison's comment. It seems as though Harrison wanted to deflect the pressure he may have been facing at the table...I think he turned his sights on what may be potentially the weakest of the couples."
What happened between Claire and Jesse on MAFS Australia?
Claire and Jesse clicked on their wedding day - despite Jesse's very long list of "icks" - but things went downhill on their honeymoon, as Jesse was quick to criticise his wife's behaviour.
When Claire brought up astrology and crystals, Jesse made it clear he wasn't interested, and on a separate occasion when the couple were at the airport before their honeymoon he told her to "shush".
Claire also criticised Jesse during the honeymoon episode, calling him "superficial" and "close-minded," when he revealed the many things he finds to be an "ick".
After an argument, their honeymoon ended on a bitter note. Claire then paid a visit to Jesse ahead of the first dinner party to try and reconcile, but was left furious when he said he hadn't reached out to her because he "doesn't chase girls."
Things went from bad to worse when Claire kissed a fellow cast member during a night out, and Jesse struggled to move past the incident. When Harrison accused Claire of using Jesse to make herself look better, Jesse decided he was done.
He said at the dinner party: "What Harrison said is what I'm perhaps afraid to say or even admit to myself, " adding, "How can I trust that you stayed to build a connection with me and not to repair your image?"
Claire said: "I did not stick around for my image. I couldn't care less what anyone thinks of me.
"I would never make you stay in a situation you don't want to stay in."
What happened between Claire and Adam?
In a particularly dramatic episode, Claire revealed she had kissed Adam on a night out, before coming clean to Jesse. Adam was in a marriage with another cast member, Janelle, when they kissed.
Jesse had been suspicious of Adam even before the kiss took place, and had already questioned Claire about flirting with him that evening, though Claire denied anything had happened at the time.
The couple argued when Jesse accused his wife of being on the phone with Adam, though appearing on Australian radio show Fitzy and Wippa recently, Claire said: "Just to be clear, I definitely was not on the phone at any point to Adam." She also said that their kiss lasted "two seconds, three seconds max".
When asked if she'd thought about kissing Adam again, she said, "No I've thought about punching Adam."
When Claire confessed to Jesse that she and Adam has kissed, Jesse responded, "That is classic...I knew it." He also called Adam a "snake."
Where is Claire Nomarhas now?
Appearing on Today Extra (opens in new tab), Claire revealed that she and Jesse haven't been in touch since leaving the experiment.
She said: "I've always been the first to reach out to Jesse. You know, 'How are you going? How was watching that? How you feeling?'"
She went on to say: "Jesse seems to be doing great. He's enjoying his newfound fame back in Perth. He's having a great time. Jesse is not really one to be like, 'How are you going? How are you feeling?' So I'm not really sure how he really feels about me."
Where is Jesse Burford now?
Jesse has been in the news after he recently shared a video of himself dramatically taking off his wedding ring and stripping, while an episode of Married at First Sight played in the background.
He has been criticised by some fans of the show for celebrating his split with Claire in the video, which also included his friends chanting "Take it off!" in the background.
Related features:
Video of the Week
Ellie joined Goodto as a Junior Features Writer in 2022 after finishing her Master's in Magazine Journalism at Nottingham Trent University. Previously, she completed successful work experience placements with BBC Good Food, The Big Issue and the Nottingham Post, and freelanced as an arts and entertainment writer alongside her studies. In 2021, Ellie graduated from Cardiff University with a first-class degree in Journalism.