Are Melissa and Josh still together? MAFS Australia season 10 couple update
Has the 'Mama Bear' met her match?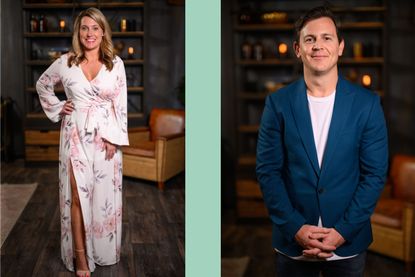 (Image credit: Future/Channel 4)
She's the bride with an insatiable sexual appetite - but is her Disney-loving groom the perfect man? We share whether Melissa and Josh are still together in 2023.
Married at First Sight Australia started (opens in new tab) on E4 this month and it's safe to say that fans are already hooked, with couple drama beginning as early as the wedding day. Of the MAFS Australia cast (opens in new tab) members looking for love in series 10, are match-perfect Lyndall and Cameron (opens in new tab) and ambitious Melissa and Layton (opens in new tab). Not forgetting of course, Caitlin and Shannon (opens in new tab), whose relationship has been anything but smooth-sailing.
Much like people wanted to know the fate of several Married at First Sight Australia season 9 couples (opens in new tab) - there's already intrigue into whether any of this year's cohort have survived the experiment. We delve into whether Melissa and Josh are still together today, a mature match that feels like a chalk-and-cheese pairing.
Are Melissa and Josh still together?
No, Melissa and Josh are not still together in 2023. During the second commitment ceremony, Josh wrote to leave whilst Melissa wanted to stay. It was expert John Aiken who overrode Melissa's decision and the two then left the show separately.
On the sofa, Josh claimed that Melissa had become increasingly controlling - restricting access to his phone, TV and books. "She's trying to tell me when I can go out, where I can go out, who I talk to, when I talked to them. And last week you heard her talk about the fact that she's going to limit intimacy - that was never something I agreed to," he said. "She is using degrading and dehumanizing language to me, questioning my manhood."
Melissa hit back by sharing her dissatisfaction at the couple's sex life - revealing some intimate details of Josh's performance. Something the experts saw as a "cruel" retaliation.
After putting it to a vote - with Josh opting to leave and Melissa wanting to stay - a twist came in the form of MAFS relationship expert John Aitken.
"Josh we can see clearly that you are pretty broken right now. Considering what we've seen tonight and what we've heard, I'm going to do something that I've never done before because I have never seen a relationship like this before in the experiment," explained John. He went on to give Josh the option to leave - which Josh agreed to.
Josh shared that he'd "tried to persevere" with the relationship but felt like the couple weren't on the same page. In an interview with 9Now (opens in new tab), he said: "What I wanted out of a relationship was not just intimacy from a physical component, but also spiritual connection, able to have deep conversations and experience growth together versus just the physical."
Melissa shared her disappointment at their failed relationship, revealing that there was more to her than meets the eye. "I mean just because I'm strong and I'm confident, it doesn't mean that I don't have feelings or that I'm not hurt as well," she said. "I was heartbroken."
Whilst no longer together, Josh did take to social media to defend Melissa from online abuse following the accusations of control.
He uploaded a video to Instagram, alongside the caption: "I ask you as an audience to please be respectful and kind to Melissa. There isn't a need to attack her at all - I understand people will want to but that doesn't make me feel any better and it just perpetuates a cycle that we should all reflect on.

"Please know that I am doing well, and I appreciate everyone that has reached out."
Melissa has also apologised to Josh publicly since the show. On Instagram, Melissa wrote: "Josh, I am sorry that my words were hurtful or damaging to you and that was never my intention to hurt you in any way, shape or form."
Alongside a photo from them on their wedding day and in happier times, she added: "Take care and hope to smile with you one day when we both have healed."
Melissa presented herself as an alpha female from the start, with the feisty bride declaring that she was looking for her "Thor" - a masculine, big, rugged man who could fulfil her fantasy. Viewers were surprised to learn it was Josh meeting Melissa at the altar - a quiet father of one who loves all things Disney.
During the wedding reception, friends of Melissa voiced their concerns that the bride was going 'to eat Josh alive' and that the groom didn't quite match up in terms of energy and personality. Nevertheless, Melissa declared that she thought the experts had made the right choice for her and was happy to see where things would go.
Intimacy, however, remained an ongoing issue between the two. On their honeymoon, when quizzed by producers if they'd consummated their marriage - Melissa said yes, whilst Josh said no. Melissa later quizzed Josh why he denied that the two were intimate on their wedding night, with Josh replying that he wasn't raised to be so open and oversharing when it came to sex.
Intimacy week also caused further friction when Melissa berated Josh for his lack of physical attention. "It's uncomfortable - you don't kiss, you don't touch, you have sex but you don't know how to love," she told him. It left Josh furious.
Where is Josh White now?
It's thought that Josh White is currently single and living in New South Wales. After his relationship with Melissa came to an end, it was reported that the 40-year-old briefly hooked up with fellow MAFS bride Lyndall Grace.
According to the Daily Mail (opens in new tab), Josh and Lyndall (who was married to Cameron on the show) hooked up at the show's wrap party - in front of their castmates - in December 2022.
A source told the publication: "Lyndall and Josh were all over each other in front of everyone, and it was really uncomfortable to watch. They were so caught up in the moment they didn't even care who was watching."
Things allegedly progressed further with Josh even flying to Perth to see Lyndall during the Australia Day weekend in late January 2023. However, the romance is now reportedly over.
According to Australian entertainment journalist Megan Pustetto (opens in new tab), host of the So Dramatic! podcast (opens in new tab), Lyndall has since branded Josh a "dog" and that his nice guy persona was all "an act".
"She's been saying that he's not a nice person, he can't be trusted and he's not what everyone sees," an insider shared on the podcast. "She wants nothing to do with him."
In contrast, Daily Mail Australia (opens in new tab) reports that the tryst came to an end when Josh discovered Lyndall had a secret boyfriend he wasn't aware of.
"Josh was heartbroken as he was under the impression Lyndall was single. She completely led him on," said a source. "He was on the first flight back to Sydney and not f***ing happy one bit. They spoke for hours every day leading up to this holiday and she didn't mention it once."
forget harrison for just a minute bc what i'm dying to know that no one seems to be talking about is htf does lyndall & josh end up together 🤷‍♀️ (as per daily mail & they're usually always right with mafs goss) this one's the most bizarre hookup in mafs history! #MAFSAU #mafsauFebruary 12, 2023
See more
Where is Melissa Sheppard now?
Melissa Sheppard has returned to her Hairdressing job in Sydney. Whilst quiet on social media since her apology to Josh, the 41-year-old has given a few interviews since departing the show.
In her most recent interview on The Kyle and Jackie O Show (opens in new tab) Melissa brought up her ex-husband again and insisted that Josh had a habit of changing for the cameras.
"Josh is a very different person in front of me and he would go to [film] these vox-pops. I felt like I was sleeping with a secret assassin," she said. "He was just running off. He would be so kind to my face and then behind closed doors [would] break down, and I had no idea.
"I don't feel like he is one hundred per cent honest," she concluded.
Melissa has also slammed the way producers edited her on the show. Particularly for portraying her as sex-obsessed. The mum recalled an incident that took place at her work which had particularly shaken her.
"Two men have been to my place of work to find me. One man asked my colleagues if the 'freak in the sheets' was in," she told Mamamia (opens in new tab). "When she said 'no' and then asked what he wanted, he just said, 'Well if she's after a good f**k, I can give it to her'. My colleague asked him to leave and I reported it."
An insider told Yahoo! (opens in new tab) that Melissa "wants the show to hurry up and end so she can return to normal life".
Related features:
Video of the Week
Emily Stedman is the Features Editor for GoodTo covering all things TV, entertainment, royal, lifestyle, health and wellbeing. Boasting an encyclopaedic knowledge on all things TV, celebrity and royals, career highlights include working at HELLO! Magazine and as a royal researcher to Diana biographer Andrew Morton on his book Meghan: A Hollywood Princess. In her spare time, Emily can be found eating her way around London, swimming at her local Lido or curled up on the sofa binging the next best Netflix show.