Are Harrison and Bronte still together? MAFS Australia 2023
***SPOILERS AHEAD***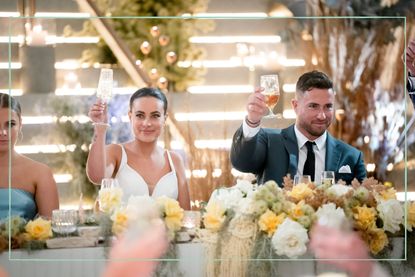 (Image credit: Channel 4)
Married at First Sight Australia 2023 has finally landed in the UK - and viewers already want to know if Harrison and Bronte are still together.
For those who have been wondering when Married at First Sight Australia is on in 2023 (opens in new tab), season 10 has now started and many of us are ready to invest in the weddings, honeymoons and dinner parties of the 2023 Married at First Sight cast (opens in new tab).
And just like fans of the show have been wondering who is still together from MAFS Australia 2022 (opens in new tab), or if fellow season 10 couples Melissa and Josh (opens in new tab) or Lyndall and Cameron are still together (opens in new tab), viewers also want to know if Harrison and Bronte went the distance after the show finished filming.
Are Harrison and Bronte still together?
While we'll have to wait until the end of the season to find out for sure, it looks like Harrison and Bronte are still together. According to New Idea (opens in new tab), Harrison recently appeared on Today Extra and revealed that the pair were still together, and have been living together for a month.
He said: "We are in a good place. There are real feelings there and I introduced Bronte to my son which is a big step. I can see myself being with this girl long-term. There are a lot of questions about whether or not it is genuine. We have been living together for over a month now. That is just a natural progression of a relationship."
However, when Bronte appeared on Australian breakfast radio show Fitzy and Wippa, she cast some doubt on her relationship status. When asked if she was seeing anyone, Bronte said "Hey, I'm still wearing my ring. So who knows what happens."
But she also spoke about a Married At First Sight episode where Harrison took a girl's phone number, and said that watching her initial acceptance of Harrison's behaviour made her now feel like a "clown".
Further fuelling speculation, on February 6 Yahoo! Lifestyle (opens in new tab) reported that Harrison had recently been spotted holding hands with a 'mystery blonde' woman.
In addition, Harrison and Bronte do not follow each other on Instagram, but Harrison does still follow some of the other contestants.
Harrison and Bronte: The MAFS journey so far
Harrison and Bronte have had a rocky journey on MAFS so far to say the least. While they initially seemed happy at the wedding, things quickly took a turn.
Harrison said "Bronte legitimately blew me away. She's absolutely stunning, I just felt all the air leave my body," but their wedding party turned sour after Bronte's friend Jessica revealed that Harrison had been seeing girls right up until the day before his wedding.
Jessica also tells Bronte that the relationship isn't over and claimed Harrison was leading the girl on and saying the relationship could continue after the show was over, showing her friend the messages on her phone.
Bronte then confronts her new husband, who tells her has done nothing wrong. He explained that he was single at the time but is now committed to his wife and that he will remain faithful to her.
However, he did admit, "There's someone that I had a crush on for a long time… I kind of told her I wished it was her I was doing this with."
Then, on their honeymoon in the Hunter Valley, Bronte and Harrison attempt to set their marriage back on track with a game of golf and a few glasses of wine. But after getting intimate that night, Bronte said "[Sex] was so rushed and there was no emotions in it. Basically, I know his favourite sex position before I know his favourite colour."
Viewers will have to keep watching to see how far Harrison and Bronte's relationship goes on the show...
Where is Harrison Boon now?
Harrison has been keeping viewers up to date on his MAFS journey via his Instagram (opens in new tab), but other than that the groom has been keeping out of the limelight.
However, some rumours have emerged as to who the 'other woman' who he had been messaging could be. Harrison was reportedly dating Abby Miller - who starred on this year's season of The Bachelors - according to the MailOnline.
Harrison's best friend, Paul Salviani, told the publication, "Harrison was never committed to Abby, he was just seeing her for a few weeks for fun. She was so unimportant that I only knew her as 'the 21-year-old'."
On the day the latest season of MAFS premiered in Australia, Abby posted a selfie captioned with the tea emoji on her Instagram (opens in new tab), leading many to believe that she intends to share the gossip about her relationship with Harrison.
Where is Bronte Schofield now?
Bronte Schofield isn't giving much away from her social media accounts either, but she was recently spotted partying with fellow star Lyndall Grace in Sydney.
The MailOnline (opens in new tab) reported that the pair headed out after dinner with another MAFS bride - Selina Chhaur - before heading to ARQ nightclub.
Bronte also seemingly got a matching Roman numeral tattoo with some of the other brides. Lyndall revealed to Yahoo! Lifestyle (opens in new tab): "When we went to the hens' night we all got along really well, most of us are really progressive and everyone was like, we should all get little 'X' tattoos for season 10, we're 10 women, we're all 10s."
She added: "I know not all of the women were comfortable getting a tattoo but that's the story behind it, just that we all want to be our best selves."
Related features:
Video of the Week
Ellie joined Goodto as a Junior Features Writer in 2022 after finishing her Master's in Magazine Journalism at Nottingham Trent University. Previously, she completed successful work experience placements with BBC Good Food, The Big Issue and the Nottingham Post, and freelanced as an arts and entertainment writer alongside her studies. In 2021, Ellie graduated from Cardiff University with a first-class degree in Journalism.