Are Caitlin and Shannon still together? MAFS Australia season 10 update
***SPOILERS AHEAD***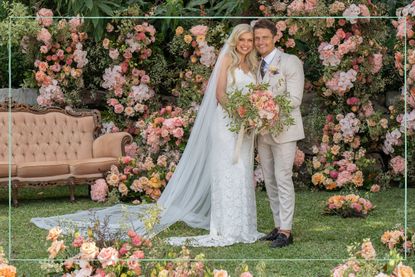 (Image credit: Channel 4)
As Married At First Sight Australia continues on E4, viewers want to know if Caitlin and Shannon are still together...
Season 10 of MAFS Australia has already become one of the most dramatic seasons yet, with wedding day revelations, dramatic dinner parties and emotional commitment ceremonies. And as fans of the the reality show become invested in the on-screen marriages, many want to know where each of the Married At First Sight couples are now.
Some are asking if solid couples Lyndall and Cameron or Melinda and Layton are still together, while others are interested to know the fate of those who've been on the rocks - like Claire and Jesse. And another couple that's had a rollercoaster of a ride on season 10 of MAFS is Caitlin and Shannon. Here's what we know about where they are now...
Are Caitlin and Shannon still together?
Caitlin and Shannon are no loner together, after the pair left Married at First Sight Australia during the second commitment ceremony. Shannon wanted a second chance at repairing their relationship, but Caitlin needed convincing.
The decision to exit the experiment was Caitlin's in the end, as she wrote 'leave' while Shannon chose to stay. Usually, couples are only allowed to leave if both want to, but expert John Aiken allowed Caitlin to make the decision on this occasion.
After Shannon was unable to explain how he planned to fix their relationship, Caitlin was allowed to leave and the pair went their separate ways.
What happened between Caitlin and Shannon on MAFS Australia?
At the wedding, Caitlin and Shannon seemed like a perfect match. But things went downhill quickly when Shannon began to make comments about Caitlin's appearance.
During a photo ranking task, Shannon hurt her feelings when revealing he didn't find her to be the most attractive of this season's cast.
He said: "I haven't seen these girls without makeup...but I have seen you without makeup," before revealing he thought Melinda was the most attractive as she was the one "who would impress your mates," telling Caitlin that the other women in the experiment's "natural beauty shines more than yours."
Caitlin then heard Shannon on the phone with his ex, and he later admitted that he is still in love with her.
In addition, after a task that involved the couple having to gaze into each other's eyes, Shannon told his bride he didn't find her attractive, leading Caitlin to feel that her husband had "done a 180" and was being "emotionally distant".
When she confronted Shannon, his response was to say: "You are a good-looking girl but not in my eyes. I thought you were going to come down that aisle and completely blow me away."
Caitlin responded, "You don't need to love me, you don't even need to like me. But you do need to respect me because I am a brilliant person, I'm amazing. It's a privilege to be in this experiment with me. I deserve better."
In the second commitment ceremony, Caitlin revealed what Shannon had said to the experts and to the rest of the cast. "He said that if someone had walked down the aisle that wowed him, he would have cut it off with his ex then and there. Because I didn't wow him, that is why what happened with his ex happened."
The experts were shocked, and John Aiken described Shannon's behaviour towards Caitlin as "disgusting."
While Shannon said he wanted one more chance with Caitlin, when the decision was left up to her she said: "You don't deserve me. I came in here really hoping to meet someone who I could love and who would love me. For me, I wanted someone to be proud of being with me, and to appreciate me. I wanted to be someone's someone, because I have never been that for somebody before. But this here, this isn't what I wanted.
"If I could do it all over again with someone else, I would. Because I deserve that chance but this man does not deserve me."
Where is Caitlin McConville now?
Caitlin is now working for fellow MAFS cast member Melinda, as a senior technician at her business Melly's Beauty Parlour.
Caitlin is a make-up artist and had to leave her job to film the show, so fellow bride Melinda offered her a position in her salon in Brisbane. Speaking to Yahoo! Lifestyle, Caitlin said: "I was working a different job and I was saying how I needed another job, something I can enjoy a little bit more and something a bit more financially stable.
"And Melinda was like, 'Babe, get your qualifications and come work for me!' and I was like, 'I already have them!' So we just thought why not? We're both Brisbane girls and we both have the same qualifications in this industry. Women supporting women vibes."
Caitlin has also since revealed that she received a text from Shannon's ex during filming. She said: "She messaged me on the show and she was quite upset, but I didn't reply.
"She reached out about how she was feeling about it all, but I don't want to be inserting myself into their relationship."
Caitlin added that she hasn't spoken to Shannon since leaving the show.
Where is Shannon Adams now?
Shannon is reportedly back with his ex Jamea Drake, who he shares four-year-old daughter Milli with.
In a recent post on the Facebook group 'Married at First Sight UNCENSORED', Jamea said, "Guys, I am the ex, You can all continue to comments about the people and who ON THE show, god I don't care what you say about Shannon either he signed up for it and put himself there, but PLEASE leave me out of the negativity."
She added: "Please remember me and my daughter are innocent, Shan and I have seven years and a kid and lots of stuff happens behind the scenes/ before and after."
Related features:
Video of the Week
Ellie is Goodto's Feature Editor, having joined the team as a Junior Features Writer in 2022, and covers everything from wellbeing for parents to the latest TV and entertainment. Ellie has covered all the latest trends in the parenting world, including baby names, parenting hacks, and foodie tips for busy families. She has a distinction in MA Magazine Journalism from Nottingham Trent University and a first-class degree in Journalism from Cardiff University, and previously Ellie has worked with BBC Good Food, The Big Issue, and the Nottingham Post, as well as freelancing as an arts and entertainment writer alongside her studies.