Amazon Prime Day baby deals 2023 - the best discounts
Another chance to grab Amazon Prime Day baby deals and discounts on prams, pushchairs, baby monitors, breast pumps, toys, and more from all the premium brands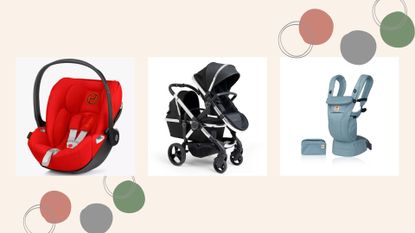 (Image credit: Future)
Amazon Prime Day baby deals are here! That means a huge chance to nab some big savings on leading premium baby brands such as Maxi Cosi, Angelcare, Tommee Tippee and more.
We all know babies need a lot of kit and having kids is expensive - but Amazon Prime Day is a brilliant way for parents to save some serious cash on all the everyday essentials they need with a baby or toddler in the house.
The best Amazon Prime Day baby deals 2023
For one more day Amazon is discounting all kinds of baby gear from the best prams and pushchairs to parenting gadgets like baby monitors and breast pumps - with as much as 50% off selected baby essentials. From Prime Day pram deals to discounts on toys, today is the final chance day to make some mega savings on everything from car seats and buggies to cots and highchairs. Prime Day baby deals are where it's at if you want to shop the best baby brands at the best prices.
Pram, buggy and pushchair deals
There's still time to pick up a serious bargain before Amazon Prime Day ends - especially if you don't mind going for last season's colourway or a line that has since been updated. Prime Day pram deals often include travel system 'bundle' offerings, where you get the frame and pushchair seat with other accessories included such as a lie-flat carrycot and/or car seat, and sometimes even extras like a change bag. Bundles tend to offer excellent value for money when you factor in the cost of buying all those items separately, including postage. When it comes to pram deals, don't overlook reputable brands who are less well-known than the big names but who offer excellent savings on decent buggies on Prime Day.
Car seat deals
Buying a car seat for your baby can seem like an absolute minefield. Keep in mind that children must use car seats until they're 12 years old or 135cm tall, and babies must use rearward-facing seats until they are at least 15 months old.
A rearward-facing seat is safer than a forward-facing seat in the event of a collision so, ideally, you should keep your child in a rearward-facing car seat until she is at least four years old. Never move your child on to the next stage seat too early - there is no advantage to doing so in terms of safety. Wait until your baby's weight meets the maximum limit for your existing seat or until the top of your child's head is level with the top of the car seat.'
Baby feeding deals
The last day of Amazon Prime Day is a good time to stock up on essential baby-feeding items as the price of these can soon mount up. Look out for deals on items you'll need next, like bigger bottles and faster flow teats. And take a look at our pick of more expensive pieces of kit like sterilizers and bottle warmers as these are always cheaper on Prime Day and can help make feeding your baby even easier and more convenient.
Crib, cot, and cot mattress deals
The secret to bagging a bargain when it comes to cribs, cots and cot mattresses on Prime Day is knowing what you actually need. If you're expecting a baby and kitting out the nursery, have a read of our guides to the best Moses baskets, bedside cribs and cot beds and don't forget you can save a significant amount of money on the last day of Prime Day by stocking up on 'boring' basics like nappies, baby sleeping bags and cot mattresses.
Baby carrier and bouncer deals
You can make great savings on baby carriers, baby swings and baby bouncer chairs on Amazon Prime Day.
Baby Monitor deals
The best baby monitors are usually on sale at good discounts on Amazon Prime Day, so do your homework to figure out exactly what you need and then search Amazon for the relevant baby monitor brands. You can often save more by choosing a slightly older model, so factor that into your shopping, and check the price direct from the retailer to make sure it really is an Amazon Prime day baby deal.
Baby walker and activity toy deals
Popular activity toys for babies and the best baby walkers are often discounted on Amazon Prime Day so these are the perfect products to shop for. If you're expecting a baby or have a newborn you could be forgiven for thinking that it'll be ages before your little one needs these kind of items but the time will come around much more quickly than you think!
Toy deals
Perhaps the best way for parents to make the most of Amazon Prime Day is by snapping up deals on toys that you can pop away for birthdays or Christmas gifts.
When is Amazon Prime Day 2023?
Amazon has not yet announced the dates for Amazon Prime Day 2023 but our best guess is 11th or 12th July.
How do you sign up for Amazon Prime Day?
If you want to take advantage of the Prime Day deals on baby products this year, make sure you sign up for Amazon Prime membership.
A membership to Prime is free for the first month and then £7.99 a month after the initial 30-day free trial period. You can cancel your Amazon Prime membership anytime.
New members can try Prime, for free, for up to 30 days. If you don't want to pay for it beyond the free trial, you must cancel your membership before the 30 days is up, otherwise, you will be charged.
It's also worth installing the Amazon app on your phone so that you can keep track of lightning deals throughout the two-day shopping event as these short flash sales end quickly after a limited period of time.
How to get the best Prime Day baby deals
Amazon Prime Day baby deals are a bargain-hunter's dream and a rare chance to save money on items you need, from toys to stash away for Christmas to the next stage car seat for your baby or toddler.
If you're expecting a baby, Prime Day is the ideal time to kit out the nursery and save money on pricy items such as bedside cribs, Moses baskets and cot beds'.
You'll find discounts on household names including Philips Avent, Tiny Love, Tommee Tippee, Fisher-Price, Silver Cross and more, with Amazon slashing the price of popular items including car seats and baby carriers, thanks to one-off Prime Day baby deals.
It's also a good time to think ahead and save some cash on the next bit of kit your child is likely to need,. Look at deals on travel cots and travel strollers ready for future adventures with your baby, or stock up on baby sleeping bags in the next size up while prices are low. And if you settled for budget versions of items like bottle warmers or sterilizers, you might find you can treat yourself to an upgrade on Amazon Prime Day for a fraction of the usual price.
Amazon Prime Day baby deals: can you return items?
Yes! As long as a product is unused, Amazon and most sellers on the site will give you a full refund for products returned within 30 days of receipt of delivery. Amazon's returns policy is a standard 30-day period and this applies to Prime Day purchases.
As a parenting specialist for more than 15 years, Heidi has written for most national newspapers and for a wide range of consumer magazines, including Mother & Baby where she was the Shopping Editor for six years, looking after regular consumer features including buying guides and gift roundups.