9 unfortunate cakes that ended up looking like penises
Number six is our favourite...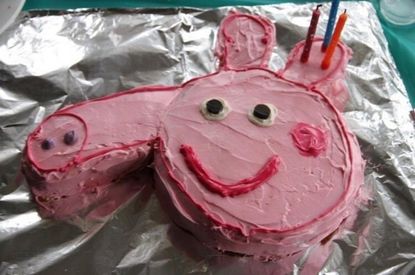 We'll be honest - there's not much that makes us chuckle quite like a really great cake (opens in new tab) fail - and these cakes that look like penises are just brilliant.
From cake decorators who spectacularly misunderstood their instructions (opens in new tab), to professionals whose creations aren't quite as perfect as one might expect (opens in new tab), comical images just seem to be so much funnier in cake form. (Hey, there's a reason we're all suckers for a good Bake Off innuendo (opens in new tab), right?)
And of course, there's nothing that makes grown-ups giggle more than a rude-shaped cake springing up in some unexpected places (particularly if those places happen to be kids' birthday parties... yep, we're that mum struggling to stifle our laughter in the corner, sorry!)
In the spirit of sharing, we've rounded up some of the best cake cock-ups of all time - and trust us, they'll make you feel MUCH better about your own kitchen skills...
Cakes that look like penises:
1. This poor unicorn
Image: Reddit/Imgur (opens in new tab) Well it's certainly magical, but probably not in the way they expected...
2. This first-class blunder...
Image: Reddit/Imgur (opens in new tab) We know numbers are tricky for some, but this really takes the cake.
3. These towering turrets....
Image: Cake Wrecks Definitely not a castle we'd be letting our little princes and princesses get anywhere near!
4. ...and these rather risqué rockets
Image: Reddit/Imgur (opens in new tab) Ready for lift off?
5. The force is strong with this one...
Image: Cake Wrecks (opens in new tab) The word lightsaber just took on a whole new meaning.
6. This questionable mallow cake...
Image: Reddit/Imgur (opens in new tab) Not just one penis, but as many as they could possibly stick on the cake. Hilarious.
7. This all-American penis-on-a-plate...
Image: Reddit/Imgur (opens in new tab) We imagine there were some questions at this turkey day dinner.
8. This EPIC Peppa number
Image: Reddit/Imgur (opens in new tab) We'll never look at the Pig family in the same way again!
9. And this fab tool, so you need never have a cock-free cake again
Image: Reddit/Imgur (opens in new tab) A fine kitchen investment, we're sure you'll agree.
Got a hilarious penis-themed cake disaster you want to share with us? Get in touch in the comment section below!
Jessica Dady is Senior Content Editor at Goodto.com and has over 10 years of experience as a digital journalist, specialising in all things food, recipes, and SEO. From the best food hampers to cookbooks, from the best cake stands to baking sets, Jessica has a wealth of knowledge when it comes to must-have food products. A passionate baker, she spends much of her time creating celebration cakes for friends and family - particularly for her two lucky children.