Prince William's life in pics
We look back at Prince William's life in pictures, from his childhood and relationship with Princess Diana to his military career and marriage to Kate Middleton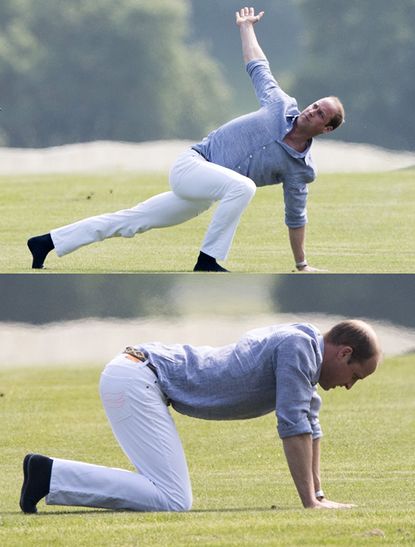 We look back at Prince William's life in pictures, from his childhood and relationship with Princess Diana to his military career and marriage to Kate Middleton
It looks like our future king is a flexible fellow! Prince William showed off some pretty impressive yoga skills at a charity polo match this weekend, and we can't stop looking at the pictures!
George (opens in new tab) and Charlotte's (opens in new tab) dad didn't seem to mind being a little bit on the playful side as he warmed up for his match with teammates, looking visibly tickled by the whole affair. Plus, he wouldn't be a proper dad if he didn't do embarrassing things every now and then, would he?
And if you think the prince is a one-trick pony, think again. There are more, yes more, pictures of him showing off some his favourite poses.
Click through to see the rest of Wills' moves.
Prince William: May 2016
Here are yet more of Prince William's expertly formed yoga poses. The Duke of Cambridge could be seen practicing the classic cat-cow pose during his polo match warm up, as well as giving other stretches a go.
We're not sure whether the 31 year old has previous yoga experience but it could be very possible. You see, the Duchess of Cambridge (opens in new tab) took part in pre-natal yoga before George, and we like to think William joined her for some of her practice sessions!
The down-to-earth dad also did the exercises barefoot, showing off his dark socks!
The life of Prince William
Look at adorable baby Prince William! The royal baby looks just like his dad Prince Charles in this photo. William was born on 21 June 1982 at St Mary's Hospital in London.
Prince William: 1983
Cute William looks charming even as a toddler and a little puffed up in his onesie! Here the prince was pictured walking for the first time at Kensington Palace.
Prince William: 1984
William enjoys his second birthday in June 1984 with his mum and dad, Princess Diana and Prince Charles, in the garden at Kensington Palace.
Diana and William had a close relationship throughout their time together and once she even insisted on taking William with her and Charles on a state visit to New Zealand when he was just 9 months old, which the Queen eventually agreed to after Diana refused to leave without him.
Prince William: 1984
It's quite rare that we commoners get a personal glimpse into the life of our royal family, so when we came across this sweet little story we just had to share it with you.
These photos are from the day two-year-old William got to visit his mum Diana and newborn baby brother, Prince Henry of Wales, in the Lindo Wing at St Mary's Hospital - now also Kate Middleton's maternity ward of choice.
Apparently, after bringing the new baby home, Prince Charles was having a little chat with his groundskeeper about life with the new baby. He said that William had taken to brotherhood like a 'duck to water.'
'It's worth a guinea a minute watching [William] enjoy himself,' he said. 'He's been climbing in and out of Harry's cot.'
And maternal grandfather, Earl Spencer also commented at the time, 'It will be lovely for William to have a companion and a playmate, and someone to fight with. I'm sure Harry will be a very good chap.'
The brothers have remained close to this day, with Harry appearing as best man at William's wedding in 2011.
Prince William: 1985
William covers himself and little brother Harry from the rain with an umbrella. The pair look so adorable in their wellies and coats.
Harry hasn't changed a bit either!
Prince William: 1986
Look away Kate (opens in new tab)! Wills was holding another girl's hand in 1986 at his school nativity play.
Adorable little William played the role of the innkeeper in the Christmas play and was the perfect gentleman, looking away when his friend's skirt blew up!
Prince William: 1987
Check out William and Harry dressed up and having fun sitting on a British Transport Police motorbike with mum Princess Diana.
Prince William still loves motorbikes so maybe it was this day out as a youngster that sparked his interest?
Prince William: 1988
Look at Wills in his cute pale blue coat walking next to his cousin Zara Phillips with a teddy round her neck on a walk around Sandringham in 1988.
The Queen (opens in new tab), Prince Philip, Prince Charles, Princess Diana, Peter Phillips and Prince Harry came out too. So this is how the royals do a family day out (opens in new tab)!
Prince William: 1989
Little William took part in a gymkhana in Gloucestershire in 1989. The prince looked very smart in his riding hat, tailored jacket, jodhpurs and gloves. Still keen on playing polo, William inherited his love of horses from The Queen, who is a known horse fan.
Prince William: 1990
We love this pic of Princes William and Harry with Diana on their first day back at school for the start of a new term at Wetherby School in Notting Hill, London, in 1990.
The boys were dressed up in their adorable uniforms and poor Wills looked like he had a lot of activities that day with lots to carry.
Prince William: 1991
We all know the royals love a good ski holiday, but did you know that William's first trip was in April 1991 when he was just 8 years old? Here he is on the nursery slopes of Lech in Austria.
He already looked like he was enjoying taking to the snow on his first ski break and we love his colourful ski suit!
Prince William: 1992
Aah look at Wills with his great-grandmother the Queen Mother. The pair were pictured smiling as they came out of a church in Windsor after the Easter service.
The prince was very smart with his church suit and hair combed to the side.
During the early 1990s, William's parents' marriage began to fall apart and it wasn't until August 1996 that their divorce became official.
Prince William: 1993
This iconic photo of Princess Diana with her sons, Harry and William, soaked on a log flume ride at Thorpe Park, shows how normal Diana wanted her children's lives to be.
That year, she also took the boys to Disney World in Florida. Living a normal life rubbed off on Wills too who was seen going to a shop himself to hire a film that year.
Prince William: 1994
They're daddy's boys too! This picture of Princes Charles, William and Harry in a poppy field was taken to be used on a Christmas card sent by Prince Charles in 1994. How sweet!
Prince William: 1995
What a cutie! 1995 is when Prince William became a bit of a hottie and the crush of many teenage girls around the world.
Here he is on his first day at Eton College in Windsor with dad Prince Charles. He looks very excited to be starting a new school!
Prince William: 1996
William greets the public on the day of Christmas mass at Sandringham.
The prince looked relaxed and happy, like mum Diana, while talking to his fans. He even got a bar of chocolate out of it!
Prince William: 1997
One of the last times William was photographed with his mum Diana in the summer of 1997 before she died in a tragic car accident in Paris in August that year.
Diana had flown William and Harry to St Tropez where they spent the holiday on Dodi Fayed's yacht.
Prince William: 1998
Wills' love of motorbikes continues into his teen years as he is snapped with another bike at the Beaufort Hunt in 1998.
The prince is a big fan of motorcycling and prefers riding his Ducati bike to driving a car so he can go unnoticed in public.
Prince William: 1999
At 17, William decided a change in hairstyle was in order and chose a dishevelled look for Prince Edward and Sophie Rhys Jones's wedding.
1999 was also the year Wills learned to drive.
Prince William: 2000
He's a hard worker too! Wills headed to Chile in 2000 on a Raleigh International expedition for his gap year before university and even chopped his own wood outside his team's accommodation in the village of Tortel.
2000 was the year that Wills had his first proper girlfriend too when he dated Rose Farquhar, who was the daughter of the master of the Beaufort Hunt.
Prince William: 2001
In September 2001, Prince William arrived at St Andrews University in Scotland with his dad Prince Charles, where he began his 4-year History of Art degree.
On starting at the university he said: 'I want to go there and be an ordinary student. I mean, I'm only going to university. It's not like I'm getting married - though that's what it feels like sometimes.' Little did he know!
William started dating country girl Carly Massy-Birch while in his first year but their relationship shortly ended when she found out he was still in contact with his ex Arabella - a PR girl who he dated briefly before leaving for uni
Prince William: 2002
Sporty Prince William loves a game of polo and takes part in the game every year.
In June 2002 he was pictured looking very much into the game at Cirencester Park wearing a red top, white trousers and brown thigh-high boots.
The prince dated daughter of a doctor, Olivia Hunt while at university, but the couple soon split and William became friends with Kate Middleton (opens in new tab).
Prince William: 2003
Prince William turned 21 in June 2003 and the public wanted to share the celebration with him at the Anglesey Food Fair in Wales by presenting him with a birthday cake.
He was appointed as a Counsellor of State and began his royal duties by accompanying his dad Prince Charles on a tour of Wales.
Wills didn't spend his birthday with the girl he was rumoured to be dating, Jecca Craig, but the pair, who are good friends, did stage a mock engagement at her family's estate in Kenya in 2003.
Prince William: 2004
Wills loves doing his bit for charity and took part in the Sports Relief Mile in London in 2004, racing with the likes of Patrick Kielty and Gordon Ramsay. Ah Wills, is it possible for us to love you even more after seeing this?
It was revealed that William was dating friend Kate Middleton (opens in new tab) in March 2004 when the pair were pictured holidaying together in Klosters.
Prince William: 2005
Ahhh young love! William poses for a picture with his girlfriend Kate Middleton (opens in new tab) on the day of their graduation from St Andrews University.
They both studied History of Art, before William changed his degree to Geography, and were friends and roommates before they became a couple. Kate graduated with a 2:1, as did William, who beat his father's 2:2 from Cambridge University, making him one of the most academically successful royals.
William soon decided to follow a military career.
Prince William: 2006
In 2006 William graduated from the Royal Military Academy in Sandhurst after completing a 1-year course. The Queen (opens in new tab), Prince Charles and Camilla and even girlfriend Kate came out to see his passing out parade and congratulated him.
William received his rank as a lieutenant that day and became an army officer in the Household Cavalry's Blues and Royals. He was to train for the post at Bovington Camp in Dorset.
Prince William: 2007
In April 2007 William split from girlfriend Kate. The couple were said to be under intense media pressure since they met at St Andrews University, with William's move to Dorset and Kate staying in London also putting a strain on their relationship.
But the couple weren't apart for long. Their break-up lasted 3 months before they rekindled their relationship and got back together in July that year.
Prince William: 2008
Oh yes, in 2008 William showed off a new beard! The 26-year-old grew the facial hair while in Barbados on a 10-day exercise with the Navy's Special Boat Service.
He liked his new look so much that he didn't shave it off when he returned home. This picture was taken at the Christmas Day church service in Sandringham. We wonder what his gran, the Queen, (opens in new tab) had to say about Wills not shaving for the occasion!
William left the army this year to pursue a career with the Royal Air Force as a search and rescue pilot. His training would begin in January 2009 and last for 18 months.
Prince William: 2009
In July 2009 Prince William took part in a charity walk in Cumbria with a group of homeless youngsters from Centrepoint Newcastle.
We don't know about you, but we love the Prince looking casual and doing his bit for charity!
Prince William: 2010
Prince William got engaged to his university sweetheart Kate Middleton (opens in new tab) in October 2010.
The couple announced the news to the world in November 2010 and Kate showed off her engagement ring that once belonged to William's mum Princess Diana.
Prince William: 2011
William and Kate got married on 29 April 2011 with millions of people around the world watching their nuptials at Westminster Abbey.
After the ceremony the couple headed to the balcony of the Buckingham Palace for a kiss in front of their fans, just like his parents Prince Charles and Princess Diana had done on their wedding day.
Prince William: 2012
William had to leave wife Kate for 6 weeks in February 2012 for his deployment to the Falkland Islands as a search and rescue helicopter pilot.
On his first overseas operational deployment Flight Lieutenant William Wales, as he's named, was seen going through pre-flight checks in a helicopter and looked rather dashing in his uniform!
Prince William: 2013
Prince William and Kate Middleton welcomed their gorgeous new son, Prince George, on 22nd July 2013.
The newborn cutie even perfected his royal wave, by giving the press a cheeky hello whilst being introduced to the world.
Prince William: 2014
In 2014, Prince William announced that he had a new job. He was to become an air ambulance pilot, and would be donating his entire salary to charity!
Wills underwent training for five months starting in September of that year (with a little paternity break after the birth of Princess Charlotte, of course) and check out the beaming picture!
Prince William: 2015
During an interview with Match of the Day presenter Gary Lineker, Prince William revealed that Prince George and Princess Charlotte will grow up to be Aston Villa fans, if he gets his way.
The duke is a life-long Villa fan, unlike his grandma, the Queen, and brother, Prince Harry, who are supporters of rival team, Arsenal!
The comments came just a week after the Prince was presented with this tiny England football shirt for Charlotte, by the England Women's football team.
Prince William: Wimbledon 2015
Wills and Kate were all smiles as they cheered on Andy Murray at Wimbledon, just a few days after the christening of their daughter Charlotte.
Whilst Kate wowed the crowds in a red LK Bennett number, William stuck to his classic suit-and-tie combo - although they did later both don matching Ray-Ban sunglasses as the July sunshine got brighter.
The couple's visit to Centre Court coincided with the start of a tube strike, with services being cancelled across London - and after hearing an announcement informing the audience of the industrial action, the cheeky prince even make a joke about having to make a dash for the last train home, much to the amusement of those seated around him.
The pair are well known for their love of all things sporting, and frequently attend big matches and tournaments - we wonder if we'll see them back at Wimbledon for this weekend's final showdown!
Prince William: July 2015
Prince William has gone back to work after the birth of his daughter - and it's his first role as a fully-trained air ambulance pilot, having recently completing his year-long training.
However, despite the pressures of first-day jitters, Wills still had his children on his mind. In an interview with Today.com, he said that Princess Charlotte is a 'little joy from heaven' - although he did admit that having two small ones around is tougher than one!
'It is more responsibility, looking after two little ones, especially when George is around. He's a little monkey!' the prince laughed.
We always knew that cheeky smile on George's face was a mischievous one - poor Kate must have her hands full now that her husband is back at his day job!
The Duke and Duchess of Cambridge: October 2015
Well this news doesn't give us much hope for humanity...
As of 8 October 2015, the Duke and Duchess of Cambridge have been granted permission to enforce a no-fly zone over their Norfolk home, Anmer Hall - to prevent photographers from taking pictures while flying over their house.
All aircraft (including drones) are banned from flying within 1.5 miles of the couple's country home on the Queen's Sandringham estate.
Restrictions are also to be imposed on Sandringham House - where the Queen and rest of the royal family usually reside at Christmas - between 1 December and 1 March each year.
Regulations issued by the Civil Aviation Authority state that no aircraft is to fly below 2,000ft (610m) of the restricted airspace 'in view of the need for security for the royal family'.
The regulations follow on from recent news that photographers were resorting to increasingly furtive techniques to get pictures of Prince George (opens in new tab), namely hiding in car boots and using other children to lure him closer to their cameras.
Can you imagine having to enforce such strict rules just to enjoy the privacy of your own home? We hope the new regulations mean Kate and Wills can relax a little more and enjoy time with their little family.
Trusted, informative, and empathetic – GoodTo is the ultimate online destination for mums. Established in 2007, our 15-year-strong archive of content includes more than 18,000 articles, 1,500 how-to videos, and 7,000 recipes.