40 tasty sandwich fillings and recipes
The best, most delicious, and nutritious sandwich fillings to make for all occasions including packed lunches, picnics, and even tea parties...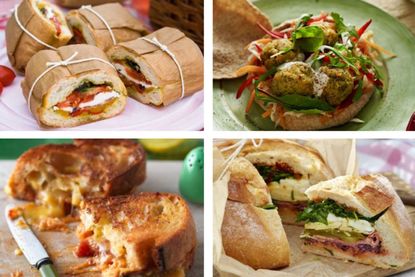 (Image credit: Getty / Alamy / Future)
From classic sandwiches to toasties, from wraps to baguettes, here are the best sandwich fillings and recipes to make at home - the perfect lunchtime inspiration.
Since the 4th Earl of Sandwich accidentally created the sandwich in the 1800s, sandwiches have been a staple of the British diet – in fact, we eat over 3 billion of them every year, and spend £8 billion buying and making them.
"While most of us are introduced to sandwiches in our school lunchbox as children, they aren't reserved only for lunchtime. The sandwich is one of the most versatile meals around and reserves its spot at some of the finest afternoon teas, as a staple element of a country picnic or over an office desk instead of dinner," says Eileen Donaghey, afternoon tea expert and author of A Beginner's Guide To Afternoon Tea At Home.
Our fillings include cranberry and cheese toasties, salmon, and scrambled egg bagels as well as recipes for making your own hummus, tuna and caper spread, and chicken liver paté to spread on your favourite bread – a far healthier option than many shop-bought sandwiches. The fillings, which vary from baguette fillings to wraps to open sandwiches, aren't just part of a healthy lunch, they'd also go down a storm on a picnic spread and are great party food ideas.
Sandwich fillings and recipes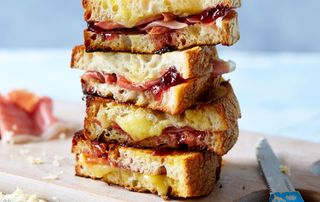 1. Cranberry and cheese toastie
Serves: 4 | Total time: 15 mins
Who doesn't love a toastie? Warm and filling, this cranberry and cheese toastie seems like it should come right out of a Christmas recipe book but it's also great for summer, as the cranberry offers a refreshing kick with the cheese. It's not a sarnie for when you're watching the calories, but it is a great one for those days when you're tired, maybe even a little hungover, and in need of a food hug.
It's also super versatile – swap out the Parma ham for smoked ham or ditch it all together for a veggie option, and if you don't have any leftover cranberry sauce lurking, use any manner of chutney you've got in the fridge. The cheese doesn't have to be Cheddar, either – try brie, goat's cheese, or even some feta.
Popping some tomato and rocket or watercress on the side will bring the vitamins.
Get the recipe: Cranberry and cheese toastie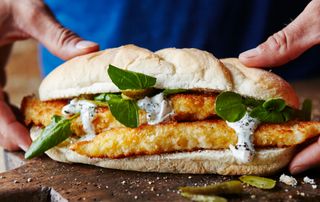 2. Joe Wicks' fish finger sandwich
Serves: 2 | Total time: 25 mins
He doesn't just bring lunges and squats to our lives, Joe Wicks also has our lunch sorted with this fish finger sandwich, the ultimate comfort food – but with a pleasingly healthy twist. Making your own easy fish fingers means no processed nonsense, it's protein-packed, and replacing the usual mayo with zero-fat Greek yogurt reduces the calories and fat.
It's flavour-packed thanks to the gherkins, shallots, and watercress, too, and will be a winner with kids and grown-ups alike. Joe uses sub rolls, but you could swap for wraps if you prefer.
Get the recipe: Joe Wicks' Fish finger sandwich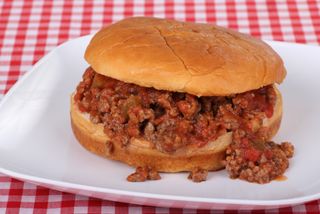 3. Sloppy Joes
Serves: 4 | Total time: 21 mins
A classic American tradition, Sloppy Joes may have a dubious name but they definitely don't have a dubious taste - they're delicious. Made from lean mince and vegetables you'll likely already have in your store cupboard.
Perfect one for those summer evenings when you want something tasty, but not too difficult to make, it's a riff on a traditional burger that, as the name suggests, is a little messy to eat (it might be a napkin tucked into the collar situation). The mince is stir-fried with a curious mix of soy sauce, ginger, and barbecue sauce, and don't ask us why it works, because it just does.
Serve with sweet potato fries or wedges and a green salad to bring freshness.
Get the recipe: Sloppy Joes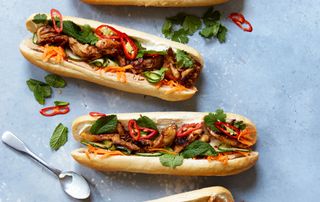 4. Vietnamese turkey sandwich
Serves: 4 | Total time: 35 mins
A 'Banh Mi', as this would be known in Vietnam, is the ultimate fusion food – a tasty filling of southeast Asian flavours in a baguette (because the French colonised in the 1800s and brought along their bread). You don't have to use turkey, as chicken is just as good (or you could make it vegan with crispy tofu or aubergine) and it is livened up beautifully in a mix of lemongrass, fish sauce, garlic, ginger, and soy sauce (it's really worth marinating it all together for as long as possible if you have time).
Learning how to make your own easy pickle of cucumber, carrot, rice vinegar, and sugar is very satisfying, and don't forget the Sriracha, mayo, and chopped red chilli to serve. A nutritious assault on the senses, that's good enough to make for guests in the summer.
Get the recipe: Vietnamese turkey sandwich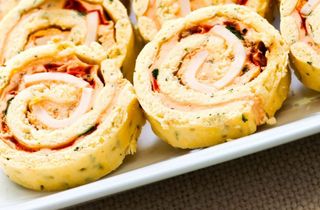 5. Roll up sandwiches
Serves: 1 | Total time: 20 mins
These roll-up sandwiches are great for fussy tummies, and they're far more interesting on a picnic or buffet spread than boring old bread triangles, as well as in the kid's lunch boxes. You can get little hands involved too, as the bread needs to be rolled out and then rolled up.
Fillings can be anything from peanut butter to jam, cream cheese and cucumber to nutella and mashed banana, or hummus and carrot, depending on how much of a treat you feel like giving them that day. "These sandwiches will make you look like the host with the most. A bit like a jam penny, roll-up sandwiches are great for picnics and a firm favourite with children," says afternoon tea expert, Eileen Donaghey.
Get the recipe: Roll up sandwiches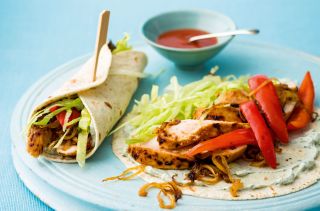 6. Chicken satay lettuce wraps
Serves: 2 | Total time: 45 mins
These chicken satay lettuce wraps are light and easy to make and just the job if you're trying to cut down on the ol' carbs. They're perfect lunch box fillers or picnic treats or will be a great addition to any BBQ.
The chicken is left to marinate in a creamy coconut and Thai paste mix (shop-bought so you don't have to slave over-prepping a ton of ingredients) to give them a spicy kick. Once they're cooked all you have to do is assemble your wrap – don't forget the satay sauce. It could be made with tofu as a vegan alternative. Add plenty of crisp cucumbers for a salad hit.
Get the recipe: Chicken satay lettuce wraps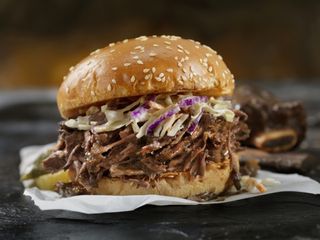 7. BBQ beef brisket sandwich
Serves: 4 | Total time: 6 hrs 50 mins
Sure, this sounds like a bit too long of a time to make a sarnie, but this isn't any old sarnie, and the only reason it takes so long is that the beef needs to be slow-cooked for hours, so it's all about a bit of low-maintenance pre-prep. And the result is the ultimate sandwich.
Succulent pieces of melt-in-the-mouth beef brisket, melted Cheddar cheese, fresh red cabbage, coleslaw, and a tangy BBQ sauce. This recipe tells you how to make your own sauce, but you can, of course, just buy a bottle if you'd rather keep things simple. An excellent treat for a summer dinner with sweet potato fries on the side.
Get the recipe: BBQ beef brisket sandwich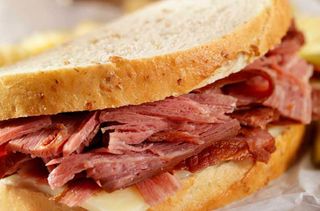 8. Salt beef brisket
It's definitely a labour of love, but learning to make your own salt beef is highly satisfying, and will keep you going for days in the sandwich stakes. Don't come to this recipe at the last minute as it's basically pickled (for a week!) first but thus lasts longer, for you to pile on to fresh bagels or rye bread, with pickles, mustard, and mayo.
A staple of Jewish cooking, make sure you pile it on high like they would in the finest of New York delis.
Get the recipe: Salt beef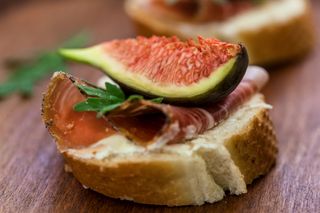 9. Prosciutto and fig open sandwich
Serves: 2 | Total time: 10 mins
Sounds posh, doesn't it? Alas, it's pretty simple, but would be just the job of pimping up a humble sandwich when you've got people over for lunch. The sweetness of the fig in this prosciutto and fig recipe makes this sandwich extra special along with the creamy, goat's cheese. Serving it as an open sandwich gives full marks for the presentation and also means cutting down the carbs and calls.
Rye bread is a great alternative to the granary loaf if you're gluten-free or just fancy a change. "Open sandwiches are a good way to cut down on carbs and an impressive way of showing off some of your nicest recipes. Fig and prosciutto not only taste great, but they also look wonderful," says Eileen.
Get the recipe: Prosciutto and fig open sandwich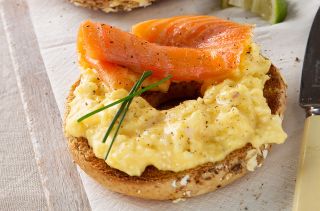 10. Salmon and scrambled egg bagels
Serves: 2 | Total time: 15 mins
Perfect to impress your overnight guests at breakfast, or for a delightful Sunday brunch, though scrambled eggs are not just for breakfast, you can have them for lunch too, or even dinner, frankly. These ones are indulgent with a dollop of mascarpone cheese to make them feel extra luxurious and livened up further with a sprinkling of chives.
Pile on to a bagel of your choice (we'd go for a seeded variety) and top with a slice of smoked salmon.
Get the recipe: Salmon and scrambled egg bagel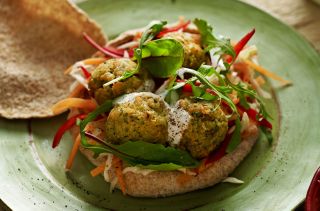 11. Falafel pittas
Serves: 4 | Total time: 55 mins
Sometimes it's worth going that extra mile and making something from scratch, and that's definitely true in the case of a good falafel (those supermarket ones can be pretty flavourless, after all). This recipe guides you through how to make it from scratch, so you can cook up a big batch and save some for another lunch, another day (you can freeze them too).
The ingredients are cheap and likely to already be lurking in your cupboards (basically chickpeas and spices), and it's plant-based, nutritious, and perfectly stuffed in a pitta or wrap. Serve with a carrot, cabbage, and pepper salad, plain yogurt, and a drizzle of tahini or hummus. You could add a good dollop of chilli sauce to spice things up too if you fancy.
Get the recipe: Falafel pittas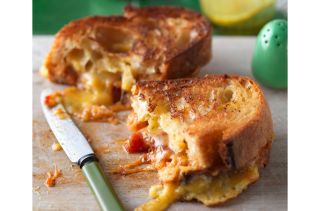 12. Hot cheese and chutney sandwich
Serves: 2 | Total time: 9 mins
This is not just any old cheese toastie, this is a next-level cheese toastie, the sort where you butter the outside of the bread, and grate the cheese together with its best food friends – onions and mustard and tangy tomato chutney. Ooof, we are salivating just thinking about it.
Play around with the ingredients – you could switch up the chutney for a mango one, to bring some Indian fusion into the mix, for example. It hits the spot and is ever so slightly naughty like all the best things are.
Get the recipe: Cheese and chutney sandwich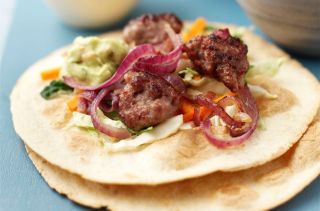 13. Lamb and guacamole wraps
Serves: 4 | Total time: 25 mins
Who doesn't love a good bit of guac? And it pairs brilliantly with lamb meatballs in this wrap, packed with red onion and plenty of shredded veggies. The lamb could easily be swapped for beef (which generally has a lower fat content) or veggie mince, and you could also add salsa and grated cheese, for what's basically a twist of a fajita.
A perfect one for the whole family, you could also add some jalapenos to spice things up, and a side of refried beans
Get the recipe: Lamb and guacamole wraps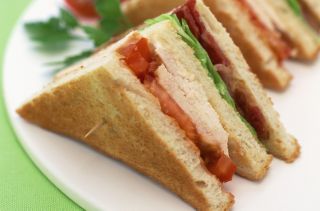 14. Children's club sarnie
Serves: 1 | Total time: 10 mins
A classic club sandwich is a winner at any age, and the novelty of this triple-deckered sarnie will get the kids eating things they wouldn't usually go near. This one sneaks plenty of tomatoes in with a tasty salsa, as well as grilled lean bacon, cream cheese, lettuce and if you're feeling bold, some red onion.
A good one for lunch boxes, picnics, and a family dinner with a side of fries.
Get the recipe: Children's club sarnie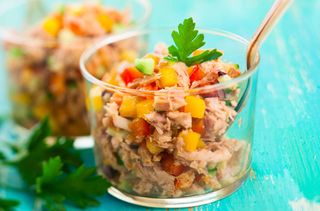 15. Crunchy tuna filler
Serves: 2 | Total time: 10 mins
Pimp up your tuna butty while keeping it pleasingly low cal and low fat, by ditching the mayo and adding small pieces of chopped pepper, onion, and cucumber to the mix. A dash of lemon juice and a drizzle of balsamic vinegar replaces the creamy dressings, and it's perfect on a wholemeal roll or in a wrap or pitta bread.
You could also add some olives in the mix or on the side, and a hard-boiled egg for extra protein. A perfect light lunch for those healthy, lean days before and after holidays.
Get the recipe: Crunchy tuna filler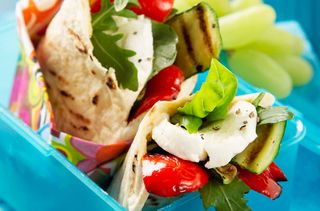 16. Roasted vegetable pittas
Serves: 2 | Total time: 30 mins
A great picnic choice you could make in bulk, these veggie pittas are a perfect option if you're hankering after a pizza but trying to be healthy. Griddle courgettes, peppers and pair them with mozzarella and fresh basil and rocket, and stuff them all into a pitta pocket.
You could also try toasting the mozzarella first, and other fabulous additions would be chopped black olives or some sliced avocado.
Get the recipe: Roasted vegetable pittas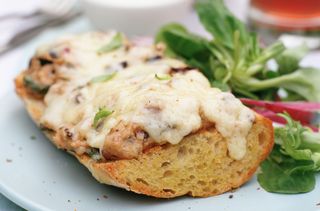 17. Tuna and cheese ciabatta melt

Who doesn't love a tuna melt? It's an easy lunch and a bit of a treat when you need pepping up, and the kids will love them too. Just mix up the tuna and mayo, add olives, red onion, and basil, top it with cheese, and stick it under the grill.
Instead of ciabatta, you could slice a baguette in half, or even use bagels, if you prefer, or a nice seeded granary loaf. Serve with a big green salad drizzled with balsamic vinegar. Yum.
Get the recipe: Tuna and cheese ciabatta melt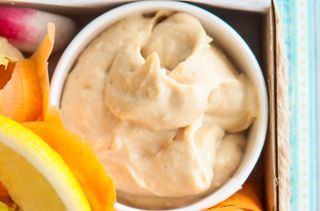 18. Homemade hummus
Serves: 4 | Total time: 15 mins
Making your own hummus is always worth it. The ingredients are cheap, you're likely to already have most of them in your cupboard, and it will work for so many lunches throughout your week. It's super versatile, so the kids can have it in sarnies with grated carrot, you can add it to wraps with falafel or just a mix of salads and, if you're a meat-eater, it can pair perfectly with your leftover roast lamb or chicken.
This recipe, which is pimped up with the addition of paprika and cumin, is vegan, nutritious, delicious, and perfect for picnics. "If you've got any dairy-free dietary requirements, why not replace the butter or mayonnaise that you'd normally use with hummus? It goes great in bread but my tip would be not to prepare them too soon before you plan to serve otherwise the bread could be slightly soggy. It works best on a firmer bread roll," says afternoon tea expert, Eileen.
Get the recipe: Homemade hummus