Cheap family meals: Budget recipes under £1 per head
Casserole, pasta bakes, and more; save money with these cheap family meals all under £1 a head...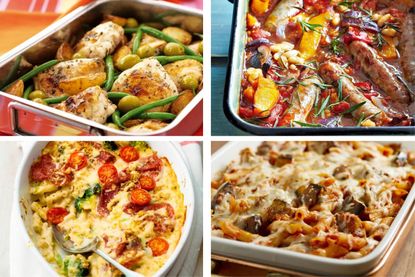 (Image credit: Future/various)
From spaghetti Bolognese to fish and chips, from tuna pasta to risotto, our cheap family meals are budget recipes all under £1 ahead.
The cost of living crisis isn't going away – in August, figures by Statista showed that over half of households in the UK saw their bills increase on the month before, and the price of food has gone up by almost 50% since the start of 2023, according to the Office of National Statistics. Even more shockingly, 5% of adults reported that in the two weeks before they were surveyed, they had run out of food and been unable to afford more.
As it's still such a challenge to feed a family nutritious food on a budget, we've brought together a collection of cheap family meals that are all under £1 per portion, with ingredients from Tesco, Morrisons, Asda, Sainsbury's, and Aldi (when it comes to where to shop, it might also help to know the answer to the million dollar question is Aldi or Lidl cheaper?)
Faith Archer, mum-of-two, personal finance journalist, and money blogger at Much More With Less says, "I try to keep food costs down by switching to less expensive alternatives, stretching pricey protein with seasonal veg or beans, and slashing food waste. For example, using chicken thighs rather than breasts, and frozen white fish rather than fresh cod.
"What really makes the difference is planning meals over a week or more, rather than focusing on a single recipe," she adds. "That way if, for example, I splash out on a pack of soured cream, bacon, or fresh coriander for one meal, I can make sure to use the rest in a different meal another day. Binning food is like setting fire to fivers."
From cottage pie to halloumi and tomato salad, here are our best recipes for everyone looking to save money on food.
Cheap family meals: Budget recipes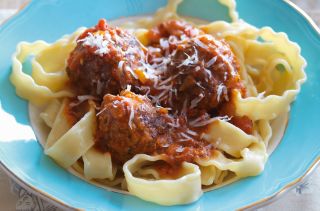 1. Meatballs with spaghetti
Serves: 4 | Cost per person: 96p | Total cost: £3.82
Priced at Tesco
Ingredients:
1 brown onion, 10p
500g minced pork, £1.79
1 garlic, 25p
Hearty Food Co. Spaghetti Pasta, 20p
1 egg, from a pack of 6, 85p
Tomato Puree, 35p
1 can Grower's Harvest Chopped Tomatoes, 28p
Meatballs are a great cheap family meal. A nifty trick is to bulk up mincemeat dishes using vegetables to make them go further. Adding an extra onion and a couple of finely chopped carrots would cost less than 50p. It would add another portion to the sauce and the 500g pasta will easily serve five.
Stay under budget by using dried herbs in this recipe and skipping the Parmesan and pesto, but use store cupboard ingredients to boost the flavour instead. Half a crumbled beef stock cube, for example. Tesco Classic Green Pesto is an extra £1 (for a 190g jar) but you only need a spoonful, leaving plenty for other meals. An opened jar will keep in the fridge for a couple of weeks.
Get the recipe: How to make meatballs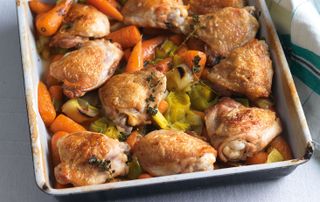 2. Farmhouse chicken braise
Serves: 6 | Cost per person: 92p | Total cost: £5.53
Priced at Sainsbury's
Ingredients:
2kg British Fresh Chicken Skin on Thighs, £3.50
500g carrots, 23p
2 leeks, 60p
150ml double cream, 75p
Hubbard's Foodstore English mustard, 45p
Faith says: "I'm a big fan of using tasty chicken thighs rather than more expensive chicken breasts, and the creamy mustard sauce makes this dish special. It goes well with value range rice if you have hungry teenagers to fill up."
Chicken breast is probably the nation's favourite cut, but it's expensive and it's not nearly as tasty or tender as thighs. You can get a really good deal on this large pack, which portions out at two thighs per person. Remove the skin if you like, to keep the fat content lower but it's not necessary.
Get the recipe: Farmhouse chicken braise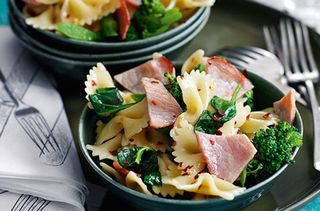 3. Bacon and broccoli pasta salad
Serves: 4 | Cost per person: 89p | Total cost: £3.57
Priced at Asda
Ingredients:
Smart Price Pasta Shapes, 32p
Butcher's Selection 12 Unsmoked Back Bacon Rashers, £1.75
Mild Tender Baby Spinach, 90p
Broccoli, 50p
This Slimming World recipe for bacon and broccoli pasta salad is not only cheap to make but healthy too. We've doubled the ingredients so it serves four. We swapped the Tenderstem broccoli for regular broccoli which is more affordable. When you prepare the broccoli, don't discard the stem - you can cube it and use it in the pasta sauce too. It has a lovely texture.
We used back bacon here, but check the prices of the streaky bacon too as it's often cheaper. Keep any bacon leftovers in the freezer and you'll have some ready for next time.
Get the recipe: Bacon and broccoli pasta salad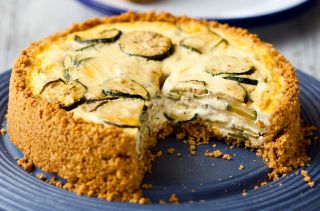 4. Courgette, garlic, and herb oaty crust quiche
Serves: 6 | Cost per person: 75p | Total cost: £4.50
Priced at Tesco
Ingredients:
Tesco Scottish Rough Oatcakes, 80p
Soft Cheese with Garlic & Herb, 90p
3 courgettes, £1.20
2 eggs (from a pack of 6), 85p
Sour cream, 75p
This makes a lovely, vegetarian-friendly Sunday lunch. With the homemade pie case, it does not feel like a budget dish at all. You can use any cream cheese with garlic and herbs, and we swapped the crème fraîche for sour cream as it works out a little cheaper. Butter is one of our store cupboard staple ingredients, but you do need a large portion for this recipe - about half a pack.
This recipe is great for sharing and as you've got a bit of budget leftover you could easily serve it with a salad for a summer meal. Leftovers also make the perfect lunch option the next day.
Get the recipe: Courgette, garlic, and herb oaty crust quiche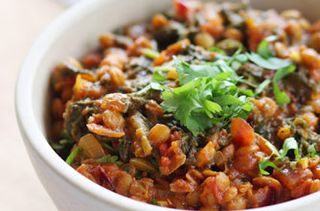 5. Lentil and spinach curry
Serves: 4 | Cost per person: 95p | Total cost: £3.80
Priced at Asda
Ingredients:
1 tin green lentils, 48p
Tinned spinach leaves, 75p
Smart Price peeled plum tomatoes, 28p
Red onion, 10p
Garlic, 25p
Pataks Madras paste pots, 99p (at Tesco or Aldi)
Fresh coriander, 50p
Smart Price Long Grain Rice, 45p
This veggie curry is a lovely weeknight supper. We've served it with rice rather than naan bread and chutney to keep the price down. Faith says: "This curry can be whipped up from store cupboard staples. Onion, garlic, rice, and tins all last for ages.
The tinned spinach and paste pots keep costs down for a single meal. But if you have the cash and might repeat the recipe, or cook other curries, Asda sells a jar of balti curry paste for £1.50 and an 850g bag of frozen spinach for £1.40. These would make at least four meals and be cheaper over the long run."
Get the recipe: Lentil and spinach balti