I'm A Celebrity 2022: Who is going into the jungle?
As I'm A Celebrity 2022 prepares to return to Australia, we look at the confirmed contestants for the new series.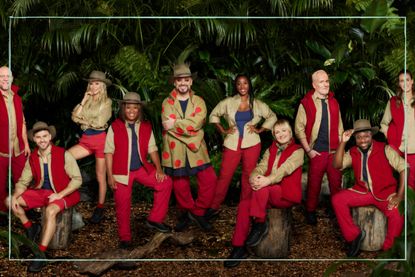 (Image credit: ITV)
I'm A Celebrity 2022 is returning to the Australian jungle this year following a two-year break after filming temporarily moved to the UK amid the Coronavirus pandemic - and now the official line up has been confirmed, fans are wondering who is going in the jungle?
Ant and Dec are swapping the I'm A Celebrity castle in Wales for sunnier climes when the hit reality show returns to its roots Down Under.
All of the fan's favourite bushtucker trials are set to return, along with the voting for the terrifying challenges that celebrities will have to face their fears and win some meal stars for their campmates.
As we look at who has jetted off into the jungle to take the crown of 2021 winner Danny Miller...
Who is in the jungle this year?
The celebrities confirmed to be going in the jungle of I'm A Celebrity this year are; Matt Hancock, Love Island's Olivia Attwood, ex-England Rugby player and royal Mike Tindall, pop icon Boy George, DJ Chris Moyles, Hollyoaks actor Owen Warner, England Lioness Jill Scott, Loose Women panelist Charlene White, former Strictly pro Seann Walsh, Coronation Street's Sue Cleaver, comedian Babatunde Aleshe and TV host Scarlette Douglas.
Some of the celebrities were pictured arriving in Oz ahead of the new series starting, before the ITV show officially confirmed its line up.
The following 11 celebrities are taking part in I'm A Celebrity 2022,
Matt Hancock
Former Health Secretary Matt Hancock has confirmed that he's signed up for the jungle. He is joining the camp as an extra campmate, and the former politician could be voted by viewers to face a lot of the bushtucker trials as punishment for breaking lockdown rules by having an affair in his office, after The Sun exposed him.
He has explained why he's swapping Westminster for the wild bush, in the The Sun, he writes, "Next week I'm going into the jungle, as part of this year's I'm A Celebrity . . . Get Me Out of Here.
"Some may think I've lost my marbles or had one too many drinks, swapping the comfortable surroundings of Westminster and West Suffolk for the extreme conditions of the Australian outback, going where there will be few creature comforts, not enough food, and a load of physical tasks involving snakes, spiders and plenty of other creepy-crawlies.
He continued, "While there will undoubtedly be those who think I shouldn't go, I think it's a great opportunity to talk directly to people who aren't always interested in politics, even if they care very much about how our country's run."
"It's our job as politicians to go to where the people are — not to sit in ivory towers in Westminster.
"There are many ways to do the job of being an MP. Whether I'm in camp for one day or three weeks, there are very few places people will be able to see a politician as they really are."
Since reports surfaced of him going into the jungle an online petition to ITV has been set up by covid families to 'stop him from appearing on the show'.
Matt is the latest in a long line of figures from the political sphere, including MP Nadine Dorries, Stanley Johnson and MP Lembit Opik.
Matt recently took part in Celebrity SAS: Who Dares Wins that is expected to air in the new year.
According to reports, Westminster sources say Mr Hancock sprung the I'm A Celeb news on stunned Tory colleagues after not getting promoted in Rishi Sunak's reshuffle late last week.
And since his announcement he has been stripped of the Government whip.
"This is a matter serious enough to warrant suspension of the whip with immediate effect," said Simon Hart, the Tory chief whip.
Next week, I'm going into the jungle, as part of this year's @imacelebrityRead why in @TheSun here👇https://t.co/DUcumVelVqNovember 1, 2022
See more
---
Olivia Attwood
Olivia Attwood is the first ever Love Island star to have signed up for I'm a Celeb. Since leaving the Love Island Villa, Olivia's TV career has taken off. So it comes as no surprise that she is the top earner, with potential earnings of up to £8.4k per Instagram post.
"One of the things that will be nice will be to show a different side to me. I think people think I am high maintenance and I will struggle without make-up and nails but I am not that bothered and I think that might surprise people. I am happy to muck in.
"It will also be nice to have a digital detox. I do a lot of social media and I spend a crazy amount of time on my phone. My phone causes me stress. We are all prisoners to our phones and so it will be so nice to have this time in life where you are digitally disconnected for three weeks. It's going to be great to be completely immersed in the jungle environment and I am excited to see what I can do."
Going on to joke she will look like a 'drowned rat' in the jungle shower rather than anything like the iconic scenes former contestant, Myleene Klass, is now famous for, Olivia added, "I definitely will be packing a bikini. But I will look like a drowned rat in the shower. I don't know if I can live up to Myleene's iconic shower moment!"
"All the trials are scary looking and I am a screamer for sure," says Olivia. "Something in the dark would scare me and the water challenges are scary looking too. But if I get voted to do a trial, I will give it a go. You've got to embrace the whole experience."
A super fan of I'm A Celebrity, Olivia has also already decided not to get involved with the camp cooking because she thinks it can lead to arguments around the campfire. She says: "I can cook but I probably wouldn't volunteer as it feels like it's a lot of pressure and a lot of arguments break out over the cooking."
She also reckons it will be a very different experience on I'm A Celebrity compared to Love Island, which also saw her live with a group of strangers followed by the cameras 24/7. "With Love Island, everyone is the same age and similar kind of people," she explains. "But with I'm A Celebrity, it's going to be the vast variety of people that will be so different. I can't wait to meet them all and I am looking forward to hanging out with people you wouldn't normally hang out with in real life. I like to think I will make people laugh in camp. I laugh at everything and I don't take myself too seriously which is key."
"I am not a terribly emotional person but I do think this show is unique," explains Olivia. "You have got no contact with friends and family, you are going to be hungry and you are going to be tested with fears and phobias. If there was one show that will make you emotional, then it is this one!"
Olivia was forced to leave the jungle on medical grounds after just 24 hours.
Boy George
The music icon and Culture Club star Boy George - real name George Alan O'Dowd, has the third highest potential Instagram earnings of £2.7k. The singer-songwriter is also said to be the highest-paid celeb on the show, according to Mail Online, and will be bringing his dry wit and outspoken personality to the camp. Viewers are also hoping for some star-studded stories from the performer, though his inclusion has caused some controversy as many point out that Boy George previously served time in prison.
Speaking about why he signed up, Boy George, said, "I am bored of being iconic in the corner and if you want to compete in the world then being part of telly is part of that. This is the biggest show on TV and that is why I am doing it. And now I have made the decision, I don't want to focus too much on what the experience might be like, but my intention is it is going to be amazing. It's three weeks without make-up and three weeks is nothing. I have just done seven weeks on tour."
He also admits he will burst into tears – but not because he is homesick. Says the singer, "I am fascinated by bugs and creatures. I think I will cry if I see something beautiful and not because it is scary. I have never been in the jungle and I am fascinated by the experience."
"Of course, I will sing!" he admits. "I am going to do impersonations of Shirley Bassey every day. I am going to put a song out whilst I am in the jungle too. I release music all the time. It's good for people to discover music in a different way rather than through the approval system of radio. I don't need to be approved by someone who hasn't made a record. "I am looking forward to doing I'm A Celebrity. It might be more amazing than I expect it to be."
---
DJ Chris Moyles
DJ Chris Moyles has signed up with the Radio X host been pictured arriving at an airport in Down Under. He was recently pictured having lunch with Vernon Kay, who starred in last year's show.
Speaking about deciding to go into the jungle he explained, "In the past, I always said no to offers to take part. But this year, I didn't say no immediately, and I ended up going to a meeting. Now I don't know why I said yes. But I am a huge fan of the show and I know what I am letting myself in for! My friends who have done it before have told me I will have a great time."
Aside from missing his girlfriend, cats and home comforts, Chris admits it's going to be weird not presenting a radio show every morning. "I am going to really miss it," he says. "It will be very weird to not do the show and see the team every day. There is a very worrying chance I might wake up at 6.30 and start talking for half an hour in camp as that is all I have been doing for the last 20 years! But I don't know if the campmates want a half hour monologue from me every morning!"
Chris has had a weightloss transformationsin recent years and he's also dreading not being able to have a cup of tea. "I am such a Yorkshire man, not having tea will be difficult to take," adds Chris. "I used to be a lot bigger so I am no stranger to cutting down on food but not having a mug of tea is going to be very tricky. I am staying well out of the cooking, too. I don't want to poison my campmates!"
---
Sue Cleaver
Coronation Street star Sue Cleaver was pictured arriving in the country and she is confirmed as an official campmate. Best known for playing long-standing Corrie resident Eileen Grimshaw. Eileen is the mother of Todd and Jason Grimshaw wife of serial killer Pat Phelan. In real-life she recently welcomed her fourth grandchild and shared an adorable snap holding the newborn on her Instagram and she's since revealed she is taking part in the hit ITV series to 'shake things up' as she approaches her 60th birthday.
"Doing I'm A Celebrity…Get Me Out Of Here! is never really something I considered doing before," explains the Soap Queen. "But the pandemic happened and then this year, I have just turned 59 and so I decided for my 59th, I was going to shake things up a bit. "I realised I needed something that would challenge me and I thought this show would be good – and so that's why I am doing it."
Describing herself as a good cook who is happy to help with campfire duties, sleeping outside in the jungle will, she adds, be an amazing experience. "I am most looking forward to the jungle," she explains. "The thought of waking up and hearing the noises of the jungle is what I am excited about. I am really looking forward to being outside and being at one with nature…
"I think I will take on more of a mum role in the camp. I can cook and it will be interesting meeting all the others. I hope it is a good team playing group. That is the biggest thing I want – that everyone is a team player."
---
Owen Warner
Hollyoaks star Owen Warner, who plays Romeo Nightingale in the Channel 4 soap, is among the official line up. He's been on the soap since July 2018, a role which he landed only months after dropping out from university. He teased he was taking a flight just days before the official confirmation, with an Instagram post and an aeroplane emoji.
He admits not having his twice-a-week haircut will be the biggest challenge he has to face in the Australian jungle as he reveals he has encouraged his friends and family to vote for him to do every single trial.
The trials are part of the I'm A Celebrity experience. It's great to be going to Australia, the OG format." Going on to explain why he will miss not having his hair cut regularly, Owen adds: "I have to get haircuts twice a week for work and I think not having them will be the biggest trial! I might come out looking like a different geezer!" Asked if he would like to find love under the jungle stars, Owen smiles as he replies: "I don't have a partner, I am always looking for love!"
Readily admitting the lack of food will prove problematic for the actor, Owen says he doesn't know how he will cope on rice and beans. "Any food I am given like the things in the eating trial I am going to make the most of," adds Owen
"I don't let myself go hungry at home. I will always have a snack. But I am not going to have the resources around me so I don't know how 'hangry' I am going to get. My cooking skills are definitely not my best attribute but I do like entertaining. I like making up games on set." Describing himself as laid back, Owen says he doesn't think he will get wound up by his fellow campmates.
But if they do step out of line, he will tell them. "Hopefully I won't get wound up by everyone," says Owen. "If someone is out of order, then I will say something. But I don't want it to cause any tension and hopefully they will stop. I don't think I will cry either in the jungle but then again I cry at most films and sometimes even new food! "It's going to be great to have a proper social detox in the camp too. I will enjoy having my phone completely taken away."
---
Mike Tindall MBE
Mike Tindall MBE , former English Rugby Union player will be the first royal on prime-time reality TV, although he has not confirmed whether or not he needed the royal family's approval to appear on the show. Mike is 'aware of what he can and cannot say' about the royals on I'm a Celeb, according to a royal expert.
Mike - who is married to Princess Anne's daughter Zara – says he knows as soon as his fellow rugby friends find out he is taking part in the hit ITV programme, they will be on speed dial to make sure he does all the trials. "I am fully aware that anyone who has ever played rugby will go, 'Yeah let's stitch him up'," says Mike. "All my friendship group has that sort of humour and I know they will definitely want to vote for me! I am prepared to do quite a lot of challenges."
The former England rugby ace has potential Instagram earrings of £2.9k per post. During his time in the jungle, Mike will be absent from his The Good, The Bad and the Rugby podcast which he does alongside James Haskell.
Mike reveals his friend and former I'm A Celebrity contestant, James Haskell, sang the programme's praises so much, he decided to finally say yes. "It is sinking in now that I am taking part," adds Mike. "I am ready to rumble! I have been asked on numerous occasions to take part. The timing was right this year and Hask (James) did the show and he had been talking about it."
Asked what he will miss most, Mike instantly replies: "First and foremost, I will miss my family. I will miss my bed too and a nice breakfast." Describing himself as an 'open book', he thinks his time in camp will be far tougher than any rugby international game. "I'm A Celebrity will be harder," says Mike. "With a rugby game you know what you are going to get and when it gets hard, you know what it looks like. This is something you can't predict; you don't know where it will take you and so you can't really plan for it. Your ability to roll with the punches is something you have got to have. Hopefully I have that and I won't overthink things. Hopefully my personality suits this."
---
Jill Scott MBE
Retired Lioness, former England footballer, Jill Scott could score another win for England if she makes it to the final of I'm A Celebrity. William Hill bookmakers have placed her as early second favourite to win the show alongside Olivia Attwood.
The former England Midfielder ended her career on a high, retiring after winning the European Championships this summer. Although the veteran did not start the game, she came on as a sub and provided one of the most iconic moments of the match when she unleashed an expletive rant aimed at Germany's Sydney Lohmann after a challenge in the middle of the park. That really endeared her to fans as England went on to win, even though Scott said after the game she wasn't proud about being caught swearing on camera. Jill recently attended the Pride of Britain Awards where the team were honoured with the Inspiration Award. She also has a book out following her football retirement.
A self-confessed hard worker, Jill hopes to help her fellow campmates out if they are struggling. She also openly admits facing rats underground will be terrifying. The legendary football player explains: "I am intrigued as to how I will react in the trials. I don't like rats or snakes and if I had to be underground that would be scary. That is literally like being buried alive! But I am looking forward to it all and meeting new people. I will help people if they are having a bad day. Everyone has got a story to tell and I love being part of a team. Hopefully we can create a good camp."
She says she knows she is going to find it tough having food rationed. She also isn't sure how she will cope without a cup of coffee to start the day. "Aside from my family, I will definitely miss coffee and tea as I am a big coffee and tea drinker," says Jill who is dating Shelly Unitt . "That is what starts my day and I am going to have to think of something else.
"I have obviously never had to starve myself as I have always had food in terms of being able to exercise, so I will see how that goes. I do like my sleep and I can get hangry. "But I am looking forward to being off my phone. I have spent a lot of time on my phone recently and so it will be quite nice to not have to be somewhere at a specific time."
---
Charlene White
Loose Women host Charlene White is swapping the ITV daytime panel show to face her fears, without her fellow panelists for back up. The ITV news presenter admits she can't stop thinking about how she will feel if spiders crawl over her whilst she is asleep in the camp.
Smiling, Charlene says, "I was fine until they mentioned big spiders can crawl all over me when I am asleep which has freaked me out! I can't stop thinking about it. "There aren't that many opportunities to have when you get older and it will be nice to see if I can do this. I've given birth to two kids in quick succession, survived that and lived to tell the tale! So, I feel it's now right to take on another big challenge."
The mum of two readily admits, however, it will be tough not being able to see or speak to her children whilst she is in the camp. "I will definitely get teary," confides Charlene. "It's a foregone conclusion. I am going to miss our daily routine with the kids, I am going to miss waking up with them and having quiet time before the school run and that's what is going to get me tearing up. It will be weird. My partner is also mostly shocked I am doing this. We made the decision together but he was like, 'I have no idea how you are going to cope!' I am not a 'need to wear make-up, nails' kind of girl but I am not very outdoorsy. "In fact, I know the fact I am volunteering to choose to sleep outside will come as a massive shock to everyone at work, too!"
Determined to embrace everything on I'm A Celebrity, Charlene reveals she has been training harder at the gym to be as mentally prepared as she can be for what life has in store in the I'm A Celebrity jungle. "I don't know what I will be like on no sleep," she adds. "You could fast forward two weeks and have suddenly turned into Cruella Deville! "I have upped my gym training in the run up and I am doing a few more weights. None of us have ever been in this situation before so you can't prepare. But if I feel body strong, then I know I will feel mentally stronger."
---
Babatunde Aleshe
Gogglebox star and comedian Babatunde Aleshe has signed up for the Jungle but can he be as successful as former Gogglebox star and I'm A Celeb winner Scarlett Moffatt and walk away with the prestigious 'King of the Jungle' title?
He admits he will be doing a lot of screaming in the jungle as he faces up to his fears of 'absolutely everything'. Revealing it took several attempts to persuade him to accept an offer because he is so scared, he says the thought of lying underground with rats, snakes and cockroaches being poured all over fills him with absolute horror. Given he is so petrified, has he considered getting hypnotised in the run-up to the new series? "No, there is nothing I can do," he replies. "I am going to see what happens but I know I will be doing a lot of screaming for sure! I am not looking forward to any trials but in terms of the one I am dreading the most, I saw one where someone was lying in a box and they put things into the box like snakes and mice. Now that would freak me out. I think I will lose it!"
He says his friend and Celebrity Gogglebox co-star, Mo Gilligan, finds it hilarious he is taking part. "I did confide in Mo," he reveals. "Mo thinks it is going to be funny but he also thinks it is good I am taking part. He is far too busy though to vote for me for the trials but in his head, he will be!"
Readily admitting he does not see himself winning the programme, Babatunde says he thinks going on I'm A Celebrity will, however, be a great opportunity for viewers to get to know him better. "Hopefully it won't be a mistake," he jokes before adding: "People are going to get to know me through this show a bit better and I just want to enjoy everything. I don't want to be King of the jungle. I am quite happy to go back to normal life afterwards. But it will be a great adventure and my wife is excited and happy I am doing it."
---
Scarlette Douglas
A Place in the Sun presenter Scarlette Douglas touched down in Australia as she heads for sunnier climes as part of the official I'm A Celebrity line up. Readily admitting she has an irrational fear of spiders, Scarlette says one of the hardest things about taking part in the hit ITV programme will be not being able to speak to her parents, who she calls four times a day. "To not be able to speak to mum and dad is going to be the hardest part of it for me," explains the property presenter. "I call them four times a day and I am such a family person.
"They are super proud and chuffed I am doing this. But my younger brother asked if I was sure I would be alright doing I'm A Celebrity as he knows what I am like about spiders. I don't like the way they crawl, move and then when you have turned around they have gone."
"I am dreading any trial involving spiders and I am also dreading the food trial. It's going to be hard too not being able to bring my seasoning into camp but I want to prove to everyone I can smash it!"
She says she 'totally fancies' comedian, Mo Gilligan, and would love it if he were to enter the jungle but to be able to create a lovely bond with all the campmates is what Scarlette is most looking forward to.
---
We're BACK down under with a host of brand new celebrities, ready to face the terrifying trials and tribulations of the jungle 🦘😱#ImACeleb returns this Sunday at 9pm on ITV, STV and ITV Hub. @antanddec pic.twitter.com/yf8LnMRWncOctober 31, 2022
See more
Speaking about the line up, Dom Aldworth, Head of Brand Marketing at Slingo, said, "From Love Islanders to Royals, this year's I'm a Celeb line-up is bound to get people talking. It will be interesting to see how these celebs handle the outback. With Olivia and Mike already being able to earn thousands from their Instagram posts it will be interesting to see how the show affects their earnings as they are sure to gain more followers."
---
Seann Walsh
Strictly star and comedian Seann Walsh is pictured heading Down Under - four years after his 'strictly' snog with Katya Jones. A source told MailOnline, "Seann is an incredible signing for I'm A Celebrity and it's a real coup for ITV. His snog with Katya is the biggest scandal to have ever hit Strictly. People still talk about it."
"Seann has joked about his snog with Katya in his comedy sketches but he's never spoken in detail about their relationship.
"Life in the jungle is boring and those long hours around the campfire would be the perfect time for Seann to get talking."
Seann joined camp with Matt Hancock as two of the latecomers.
---
Related ITV features:
Video of the week
Senior Entertainment Writer
Selina is a Senior Entertainment Writer for Goodto.com, Woman&Home, and My Imperfect Life with more than 16 years of experience in newspapers and magazines. She currently writes a mix of Entertainment news - including baby news, weddings, reporting the the latest news about the Royal kids Prince George, Charlotte, Louis, Archie and Lilibet as well as Family news stories. Before joining Future Publishing, Selina graduated from the University of Sheffield in 2006 with a degree in Journalism. She is fully NCTJ and NCE qualified and has 100wpm shorthand. When she's not interviewing celebrities you can find her exploring new countryside walking routes, catching up with friends over good food, or making memories.