50 things to make with tinned chickpeas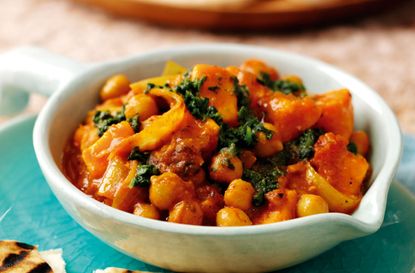 (Image credit: Future)
GoodTo newsletter
Sign up to the GoodTo Newsletter. You can unsubscribe at any time. For more information about how to do this, and how we hold your data, please see our privacy policy
Thank you for signing up to . You will receive a verification email shortly.
There was a problem. Please refresh the page and try again.
We've rounded up 50 different recipes which use cheap and healthy chickpeas. From curries and homemade hummus to pasta, salads and stews, these dishes make the most of a tin of chickpeas...
Chickpeas are cheap and healthy and can be added to so many different dishes. We've rounded up 50 of our favourite ways to use tinned chickpeas.
From homemade hummus to Moroccan tagines, fancy fish dishes to quick lunchbox ideas, these recipes make the most of the humble chickpea.
They are one of our favourite store-cupboard ingredients, especially the tinned kind, as you can use them straight from the can. Have a few tins on standby and add them to salads, stews, curries and weeknight pasta dishes.
They're a great source of protein and fibre, so add more chickpeas to your diet with our round up of 50 recipe ideas.
Click through to see them all...
Then try our lovely recipes to make with a simple tin of tuna.
Slimming World's chickpea and chilli cakes with minted yogurt dip
You will need: 2 x 400g cans chickpeas
Smokey chickpeas
You will need: 1 x 400g can chickpeas
Spanish-style squid
You will need: 2 x 400g cans chickpeas
Chickpea pesto salad
You will need: 1 x 400g can chickpeas
Sweet potato and griddled prosciutto salad
You will need: 8tbsp tinned chickpeas
Warm spaghetti with rocket, raisins and chickpeas
You will need: 1 x 400g can chickpeas
Chickpea and parsley soup
You will need: 200g tinned chickpeas
Chickpea and courgette eggah
You will need: 1 x 400g can chickpeas
Tuna and chickpea salad
You will need: 410g tinned chickpeas
Moroccan chickpea cakes
You will need: 1 x 400g can chickpeas
Spicy baked chickpeas
You will need: 1 x 400g can chickpeas
Hummus
You will need: 200g tinned chickpeas
Meatball tagine
You will need: 1 x 400g tin chickpeas
Couscous, chickpea and salmon salad
You will need: 75g tinned chickpeas
Carrot and Coriander burgers
You will need: 410g tinned chickpeas
Roasted red pepper and chive falafel
You will need: 2 x 400g tins chickpeas
Spiced sweet potato soup with garlicky croutons
You will need: 410g tinned chickpeas
Roast vegetable and chickpea salad
You will need: 600g tinned chickpeas
Chickpea and coriander salad
You will need: 250g tinned chickpeas
Spiced lamb crumble
You will need: 410g tinned chickpeas
Citrus salmon
You will need: 1 x 400g tin chickpeas
Cauliflower and radish salad
You will need: 210g tinned chickpeas
Spanish-style spaghetti
Chorizo, chickpea and potato soup