The most popular family meals – and how to give them a twist
From Sunday roast to mid-week pasta, we've rounded up the top 15 family meals as voted by you. Not only have we rounded up the classics, we've given them a twist too! Come and see for yourselves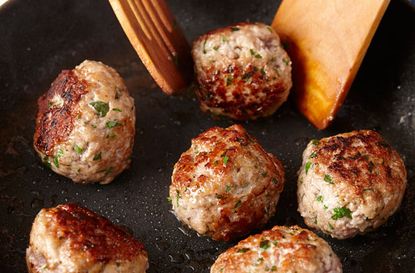 From Sunday roast to mid-week pasta, we've rounded up the top 15 family meals as voted by you. Not only have we rounded up the classics, we've given them a twist too! Come and see for yourselves
Most popular family meals – and how to give them a twist
We wanted to find the most popular family dinners in the country so we asked you what meals you make on a regular basis. From Sunday roast to mid-week pasta, we've rounded up the top 15 family meals - as voted by you.
If you love getting the family together and cooking up a hearty feast for the whole gang, there can often be some classic recipes which you end up making over and over. Casseroles, spag Bol and curry are only a few of your favourites.
Not only have we rounded up the classics, we've given them a twist too! So come and click through to see the top 15 family meals as voted by you...
15. Meatballs
Classic recipe: How to make meatballs
Why so popular? Hearty, filling and a dish that doesn't cost much, meatballs have been a family favourite for years now. Kids love the fun shape and bite sized portions which are perfect served alongside spaghetti, mashed potatoes or rice. They're also a great dish to make in bulk and freeze - making it both delicious and economical too!
14. Frittata
Classic recipe: Frittata
Why so popular? This delicious dinner is a great way to use up all those bits and bobs in the fridge. With most people usually having eggs in, it makes the perfect go-to recipe towards the end of the week. Even with just potato and onion this Spanish dish is absolutely delicious. Using plenty of eggs you can make this very inexpensively too - good news!
How to give it a twist: The great thing about frittata is that the egg base goes with any flavours. Try smoked salmon, chorizo sausage or roasted sweet potato. Serve it cold in packed lunches for a change to sandwiches. See more ideas for frittata fillings
13. Pizza
Classic recipe:
With thick or thin dough, tomato or pesto bases, there really is something for everyone. Kids love being able to eat their dinner without their knife and fork too! This recipe can be prepared, frozen and cooked when needed for speedy home cooked food.
12. Fajitas
Classic recipe: Beef fajitas
Why so popular? These wraps are simply bursting with flavour. From cool sour cream to fresh and vibrant salsa, they score seriously high on the delicious stakes. Fajitas are also perfect if you've got guests round for tea. They'll just love the serve-yourself aspect where they can fill and wrap their dinner themselves, choosing their own portion sizes.
How to give it a twist:
For a fancy dinner why not try mixing your meats? These wraps are delicious with a prawn, chicken and beef combo. Or, they're also nice baked in the oven with a little salsa and grated cheese topping to make them more like
enchiladas
.
See more classic Mexican recipes
11. Fish fingers
Classic recipe:
Why so popular? These gorgeous crispy parcels of fish can be prepped in advance and frozen till needed making them the ideal healthy fast food (or you can just buy them ready made!) Squashed into sandwiches, or dunked into ketchup, kids love them any way they come.
How to give it a twist: Try adding flavourings to the coating of your fish fingers next time, like dried herbs or dried chilli flakes and lemon zest. You could also swap the batter for egg wash and breadcrumbs for a healthier spin.
10. Pie
Classic recipe:
Why so popular?
With
a crunchy pastry lid and a rich, warm filling, pies are made for big
family dinners where everyone helps themselves and are free to grab
seconds... and maybe even thirds! We think they're so popular because
they are nostalgic too, proper good old fashioned cooking at its best.
9. Stir-fry
Classic recipe:
Why so popular? Ready in a few short minutes and packed with healthy veggies, stir-fries are a great way to get that 5-a-day target into your whole family. You can switch up the ingredients to suit anyone's tastes too.
How to give it a twist: Serve at the table with bowls of coriander, chillies and lime wedges so that everyone can have their's how they like it. See more of our ideas in our stir-fry recipes section.
8. Sausage and mash
Classic recipe:
Why so popular? Smooth and creamy mashed potatoes and golden baked sausages are a match made in heaven. This is a simple dish which takes minutes to prepare and is always gone in a flash (in our experience!) It's also the perfect winter warmer, especially when the kids have friends round for tea as it can stretch to feed a lot of people.
How to give it a twist: Try adding gravy and onions to the roasting tin while the sausages are cooking for a saucy treat. Or you could try our sausage and mash bake for a fun (and delicious twist)
7. Cottage pie
Classic recipe:
Why so popular? This is another dish that saves on the washing up and is tasty too! This meal combines creamy mashed potatoes with a rich beef gravy - the perfect flavour partners. You can add breadcrumbs or grated cheese to the top for a crispy finish too - we just love this dish, and you do too!
How to give it a twist: Try switching the mashed potato topping for carrots or sweet potatoes instead for a healthier spin.
6. Jacket potatoes
Classic recipe:
Why so popular? Popped into the oven and forgotten about, these little baked delights produce a full meal with just one ingredient - perfect for all you busy mums! With a crunchy outside and fluffy centre, it's no wonder we love them so much. You can fill them with whatever you like too like: tuna, cheese or beans - the choice is yours!
How to give it a twist: Make your baked potatoes even tastier by scooping out the insides once cooked, mashing with spring onion and cheese and then putting back into the skin, sprinkle cheese on top and grill. You can even separate your potato into mash and skins. See more jacket potato filling ideas.
5. Curry
Classic recipe:
Why so popular? We've become a nation of spice lovers and we can't get enough of fragrant sauces surrounding tender meat and fresh veggies that is a classic curry. The perfect meal to shift a cold or spice up the mid-week slog.
How to give it a twist: Try rubbing curry paste on meat or fish before frying for the taste of curry, but when you're in in a hurry. If you usually stick to Indian curry, give a Thai curry a go - their as easy to make but have a wonderfully fragrant flavour. See more ideas for homemade curries in our special curry recipe section
4. Pasta
Classic recipe:
Why so popular? Everyone loves pasta. You can find it in every supermarket, it doesn't take long to cook and is perfect served with different sauces and meat and can be served for lunch or dinner - can't you see, the possibilities are endless!
How to give it a twist: There is no end to the things you can do with pasta. Try it topped with cheese and baked in the oven or even as a pudding, cooked like rice pudding with cream and vanilla. See our pasta recipes collection for hundreds of ideas
3. Spaghetti Bolognese
Classic recipe: Spaghetti Bolognese
Why so popular? Spaghetti Bolognese is one of those delicious stand-by dinners which the kids love. Using tinned tomatoes and dried pasta, you can just about rustle this up from everyday essentials you have in the cupboard and fridge already. This Italian favourite is our favourite too!
How to give it a twist: Use turkey mince for a lighter version or Quorn if you're being extra healthy! You can also stir some pesto through the tomato sauce for a flavoursome twist. See more of our great ways to mix up your spaghetti Bolognese
2. Casserole
Classic recipe: Beef casserole
Why so popular? With slow cooked, tender meat and hearty root veggies, stews and casseroles are the best kind of winter comfort food. This one-pot dinner solution also makes its own delicious gravy with very little effort.
How to give it a twist: Adding a large spoonful of wholegrain mustard will give any stew a delicious kick. You can also try serving your casserole with couscous for a more Moroccan-style dish. See more delicious ideas in our casserole recipes section.
1. Roast dinners
Classic recipe: Roast chicken
Why so popular? You can't beat a British classic with all the trimmings. All ages love a roast dinner, especially a roast chicken, thanks to the juicy meat, rich gravy and crispy spuds. It's also the perfect dish to sit down with the whole family over and have a good old chat.
How to give it a twist: Try pushing Asian flavours, like chilli, lemongrass and ginger, under the skin of your roast chicken before cooking for a fragrant flavour. See more delicious roast dinner recipes here.
Where to next?