30 days of homemade food: A mum's challenge
Which is better - homemade or shop-bought food? Well, our mummy blogger Anneliese is on a mission to find out. Taking on a 30 day challenge, Anneliese is ditching the ready meals, swapping the jars and making every single thing from scratch and what's more, she's doing this with two kids running circles around her in the kitchen. How is she going to cope?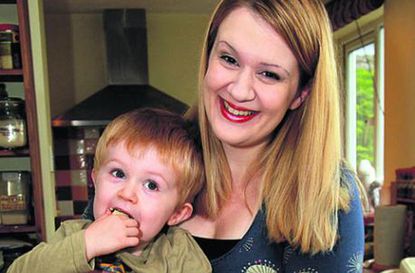 GoodTo newsletter
Sign up to the GoodTo Newsletter. You can unsubscribe at any time. For more information about how to do this, and how we hold your data, please see our privacy policy
Thank you for signing up to . You will receive a verification email shortly.
There was a problem. Please refresh the page and try again.
Which is better - homemade or shop-bought food? Our mummy blogger Anneliese went on a mission to find out.
Taking on a 30 day challenge, Anneliese ditched the ready meals, swapped the jars and made every single thing from scratch and what's more, she did it with two kids running circles around her in the kitchen. How did she cope?
Making every thing from scratch for 30 days was definitely a challenge for Anneliese and she has shared every high and low with us in her weekly blog below. Not only did Anneliese's challenge give her a new lease of life in the kitchen - it also made her famous! Her challenge was featured in national newspaper The Express!
Read our exclusive blog to see how she got on...
Inspired to do it yourself? Read Anneliese's top 10 tips for homemade food
-----------------------------------------------------------------------------------
Jessica Dady
Click here to visit Anneliese's blog (opens in new tab)
-----------------------------------------------------------------------------------
- Week 1
Week One
I am a Mum to two small boys. I adore them both and I can't think of anything more rewarding than watching my boys learn new things each day and seeing the world through their eyes. However, I am exhausted! My time is spent trying to encourage my boys to share, changing nappies, playing with puzzles and leaping to the rescue every time my 16 month old takes a tumble!
I used to love cooking but, since having my second child, I have found myself reaching more and more for processed food. I feel guilty for dishing up chips and chicken nuggets or pasta sauce from jars but I have fallen into a bit of a rut; it has been hard to find the energy and impetus to haul myself out of it.
A month or so ago we were in the supermarket carrying out a tedious shopping expedition. As we loaded up our trolley, it dawned on me that a substantial amount of our food was from the freezer section. I suddenly noticed all the ready prepared foods sitting upon the supermarket shelves trying to tempt me. There was frozen mashed potato, cheese sauce and pre-roasted vegetables. So much is done for us nowadays and it isn't easy to resist!
I wondered if I would be able to change my ways. It wasn't long before I had decided to challenge myself to cook everything from scratch for 30 days. I was worried that I would end up even more exhausted. However, I thought it was a chance worth taking if it meant we could lead a healthier lifestyle.
I started my challenge on a Saturday as I thought it would be best to ease myself into it when my husband Neil was at home! After a simple breakfast of porridge, banana and honey, it was off to the supermarket to get all the food I would need for the first week. I'm not usually a planner but I knew I had to turn over a new leaf. I had written out a menu for the entire week and also a very long shopping list! It took ages to find all the required ingredients and, when it came to the cash till, we couldn't believe how much it all cost - almost double a usual weekly shop, eeeek!
I had hoped that the weekend would be fairly easy as I had help with the boys but it turned into a complete killer. I took on far too much and wore myself out. Not only did I feel tired but I also felt tempted to put an order in for a new spine!!!
Happily there were some positives from those first two days! I'd never made gnocchi or pesto before and I was amazed by how simple they are to make. They had such a fresh flavour; I could almost taste the vitamins and minerals! I was also amazed by how quickly and easily I could make my very own chicken nuggets. I had never thought of making my own before this project!
I think the hardest thing of all was making up a mountain of chopped tomatoes, just because it took ages and was such a repetitive job! However, I managed to make lots for the freezer, so I was able to reap the benefits for the rest of the week.
After an exhausting weekend I admit that I dreaded managing on my own for the rest of the week. Thankfully, when Monday arrived, things became so much easier. We were back into our weekday routine and I managed to plan my cooking around Oliver's naps and Isaac's pre-school sessions. I also did a fair amount before bed! I have discovered a love for baking bread; fresh bread really can't be beaten. Making coleslaw has been a revelation; all the vegetables are so crisp and the flavours are amazing! I even had fun making my own pasta but was annoyed when the individual pieces glued themselves to each other whilst drying. If I were to make pasta regularly it would be difficult to find room to dry pieces individually, away from inquisitive little hands!
Making food from scratch for these past seven days has of course made me feel rather virtuous. Also, it is wonderful to see my children eating food when I know exactly what has gone into it. However, you can't of course guarantee that your child will like or even try what you have painstakingly prepared. It is like a knife through the heart when food is left to go cold on a plate or, worse still, spat out!
My highlight from the week was when BOTH boys happily ate ALL their pizza! Another much loved recipe is granola for breakfast. My only real trouble has been finding things my three year old will eat when he has a packed lunch at preschool. It's very upsetting when homemade bread with homemade raspberry jam is left, although Isaac does like to eat the crusts off bread and leave the rest. I believe this is rather unusual!
After a shaky start to my 30 day homemade challenge I feel that I am getting into the flow and finding my feet. I am really enjoying trying new recipes each and every day and finding new family favourites.
I wonder what week two has in store!
Week Two
After two weeks of cooking everything from scratch, I think it is safe to say that the novelty of my challenge has worn off! Don't get me wrong, I find it extremely satisfying to know that I am providing my family with homemade food every single day. However, just because I put nutritious food in front of my two young boys, it does not mean they will actually eat it!
I have discovered that my children are growing increasingly suspicious when they are given new foods and flavours to try for almost every meal and snack. I am sure I have noticed an ever increasing look of mistrust in my toddlers' eyes! A few weeks ago, I was dishing up such things as ready made pasta sauces, chips and shop-bought breakfast cereals; these were all eaten without a moment's hesitation. However, these past two weeks I have spent a lot of time in the kitchen. The oven is almost permanently on and our compost container is constantly overflowing! I have peeled and chopped countless vegetables, kneaded endless amounts of bread dough and stirred numerous varieties of sauce. After all this work it is upsetting to see food left untouched on plates or worse still, thrown on the floor.
My other issue has been trying to fit all this cooking around looking after my two boys. It's all very well trying to offer them a healthy diet but, when cooking takes over your life, is it possible to have a healthy relationship with your children? When Isaac is at pre-school and Oliver is asleep, I am able to get a lot done in the kitchen, but on the days when they are both home and into mischief, it is very stressful trying to cook, especially when I witness my three year old tip a pile of chalks onto the floor and my 16 month old trying to eat them!!! I find myself having to dart between my chopping board and rescuing my children on many occasions!
On the days when everything slots into place, I have really enjoyed cooking every meal from scratch. I had great fun using the pasta machine with Isaac, my three year old, this week. He absolutely loved making pasta sheets for our lasagne and I enjoyed seeing the look of wonder on his face! The best thing about this challenge so far has been making my own bread and I managed to extend this into making naan bread, to accompany a mild vegetable curry. The naan bread was a little time consuming but so much fun to make. It was well received by the boys but the curry, which was full of nutritious vegetables, was given the cold shoulder.
I have also enjoyed using my slow cooker this week; it was purchased well over six months ago - it's about time I dusted it off and made use of it! I made the boys a slow cooked beef stew, which was the most popular meal of the week. I also made a delicious veggie chilli, but it was unfortunately too spicy for the boys, whoops! I think that slow cookers are a wonderful invention; the meat and vegetables can be prepared, put into the slow cooker all day to cook (or even overnight) and a delicious meal can be dished up some six or eight hours later.
Last week, I'd had trouble with Isaac's packed lunches. Each time Isaac came home, I found squashed uneaten sandwiches in his lunchbox. I made more of an effort this week and I am happy to report that Isaac's lunchbox has been coming home empty. Hooray! It would appear that cheese flapjacks, savoury muffins and malt loaf all get the thumbs up. This has given me good reason to feel hopeful that Isaac is adjusting to the change in diet. He still loves the granola and porridge, now I just need to get him to tuck into his evening meals! I do believe that Oliver, who is just 16 months, is entering into toddlerhood and he is perhaps rebelling just a little! I could always rely on Oliver to eat everything that was put in front of him but now he is much more picky and I'm sure I can see a twinkle in his eye when things are thrown to the floor!
To conclude my evaluation of week two, I have discovered that it is very difficult to find a balance between finding time to cook and looking after my boys. Whatever happens, I always manage to feel guilty that I haven't done enough in the kitchen or I haven't spent enough quality time with the boys. I believe that it must all come down to organisation, something that I have always struggled with! I think that, if I can plan things out a little better, I will start to reap the benefits. Well I hope so anyway!
Moving ahead to week three, I am looking forward to trying out some nutritious but (hopefully) equally tasty breakfast bars, burgers, a quiche and a hearty shepherd's pie. Let's just hope my boys actually eat some of it!
Week Three
This week has flown by and I've really savoured my time in the kitchen. However, it has come with its testing moments too. This week I have really struggled to get my younger boy, Oliver to eat what is put in front of him. All he wanted was bananas and everything else was given short shrift. I felt so frustrated as I knew that, if he were to taste the food, he would like it!
By comparison my three and a half year old has turned a corner and is starting to enjoy the food I am making for him. It's such a sense of accomplishment when I see Isaac tucking into such things as a lentil quiche, baked beans and shepherd's pie, which have all been made by my own two hands. A week ago I would have had trouble persuading Isaac to try such things but now they are much enjoyed.
At the weekend I try to offer more interesting breakfast options, which in turn take a little longer to prepare. This week it was the turn of drop scones. Drop scones are similar to pancakes but the mixture is a little thicker and the resulting scones are small and fat! They are utterly delicious served with such things as honey and banana or yogurt and fruit or whatever takes your fancy. Drop scones were well received by everyone in our house, so I will definitely add them to my list of make agains.
The thing I struggle with most is breakfast on hectic mornings when I have to get Isaac to pre-school. To say that he is a dawdler is an understatement. Breakfast becomes a battle ground due to Isaac eating his granola a porridge flake at a time! It fills me with frustration and I have to nag him to hurry up. This usually leads to Isaac playing me up when it's time to run out the front door and yes, we never arrive at pre-school in time! To speed things along I've been making Isaac breakfast bars. They are tasty, packed full of energy, fill his little tummy up and, best of all, they are quick to eat! This week I tried out banana and five seed energy bars; they are delicious and they have made our mornings far less stressful!
I was really pleased to make my own roast dinner completely from scratch at the weekend. There was roast chicken, roasted potatoes and parsnips, sage and onion stuffing, Yorkshire puddings and homemade gravy. Yes, it did feel like I was juggling a thousand things at once but it tasted so good and the individual meal components were actually really easy. I was amazed by how few ingredients there are in the stuffing, just a little butter, onion, herbs and breadcrumbs, amazing!
The absolute food highlight of the week for the boys was fish fingers. I realise that not every child likes fish but my boys have become hooked (yes even fussy Oliver)! I added a bit of crunch to my fish fingers by rolling them in polenta before cooking. It was quite expensive to buy a large fillet of fish but, as I was left with clean plates, I think it was worth it!
I had struggled with lunches to go into Isaac's lunchbox during the first week of the challenge. However, after making just a little more effort, I am reaping the benefits. Along with the usual sandwich I've been adding slices of quiche, wholemeal rock cakes, carrot sticks and cheese straws. Isaac has been coming home with an empty lunchbox for nearly two weeks, hurrah!
Now that I am about to start my fourth week of cooking everything from scratch I definitely feel that I am finding my feet. I am learning lots too; I've found that making potato wedges takes exactly the same amount of time as chucking a tray of frozen chips into the oven. Making a simple beef burger only requires a couple of ingredients and the results are far better than shop bought and it's even better when the burger baps are homemade too! I tried using pearl barley in place of risotto rice this week, not only is more nutritious and more filling but it tastes delicious too.
This third week has had its frustrations and exhausting moments but I have really enjoyed rediscovering my love of cooking. Not only is it good to know what goes into your food but the flavours are far sharper and they actually taste healthier too.
There's only one more week to go. Will I be able to maintain momentum or will my energy flag at the final hurdle?!
The final week
The first three weeks of the challenge may have flown by but this last week has dragged. Matters were not helped when I came down with flu. I had a stuffed up nose, aches and pains and a temperature - I had the works! When I decided to cook every single thing from scratch for 30 days I did not add illness into the equation! However, there was no break or day off; I had to push through and keep cooking everything for my family. There was no way I was giving up!
I must admit that any planning ahead went out the window this week. I was approaching the end and already slipping back into my old ways. I truly believe that, if I could re-program my brain and learn to plan, it would have made my challenge a lot easier. I started off with such good intentions but, by this final week, I felt too tired and ill to care!
My boys did really well with all the different foods this week but, as usual, they had their favourites. I made eggy bread with some of my homemade bread at the weekend and this was very well received, especially by Oliver my 17 month old. Eggy bread is super quick to make and a great way to use up any unwanted stale bread. A mild vegetable byrini was also a hit with the boys, Neil and I thought it was a little on the bland side but we didn't care as Isaac and Oliver had gone to bed with full tummies. Hooray!
My true love has always been baking and I was happy to make lots of cakes at the weekend. However, I did get a little carried away and made carrot cake, a raspberry torte, some lemon butterfly cakes which were filled with my homemade lemon curd and a quiche for good measure. I think my husband was very popular at work the next day! I must admit that I did feel it necessary to sample my offerings myself, several times!
After all that baking it was time to turn my attention back to cooking meals and one of my biggest challenges of the week was making my own tortellini pasta. I had never made it before, although it was great fun, making the pasta, rustling up the filling and then making a sauce took time. The meal was much enjoyed by everyone but, after the few hours of work, it was gone in just a matter of minutes!
I made some vegetarian sausages mid-week. They turned out well but I managed to burn the potato wedges which I had made to go alongside the sausages. The smoke alarm was soon blaring. Neil and I spent some time flapping tea towels and opening doors trying to stop the ear piercing beeps; anyone would think smoke alarms were designed to be loud and persistent!! At least my baked beans turned out well. Apparently they were my best attempt yet. However, I still can't seem to find a recipe which actually looks or tastes like a tin of baked beans. My boys can always tell the difference!!!
Isaac, my three year old, continued to excel with his lunches this week. He attends three lunch clubs per week at pre-school and each time he has eaten all I have given him. A few weeks ago was quite the opposite, so this has been a real highlight of the whole challenge.
Oliver, my younger boy, seems to be trying more food this week too. Previously pretty much everything (apart from banana) has been cruelly tossed to the floor. He is now starting to enjoy the different foods I am giving him; he tucked into an aubergine curry, turkey burgers and even had a mushroom omelette. Both Isaac and Oliver would never normally eat omelette or frittatas but I think we are now making progress. I am allowing myself to feel a little hopeful!
I am still enjoying making fresh bread most days, but my poor elbows are beginning to suffer from all the kneading. The other day I made granary bread and it was absolutely delicious; what's more we ALL enjoyed it! It won't be easy to go back to shop bought bread, so I'm pretty sure I shall be making my own a lot more frequently from now on.
My favourite meal of the week was a flavoursome hotpot, which is crammed full of sweet potato, green beans and red pepper. I have really enjoyed reconnecting with flavours on this little 30 challenge and I've learned that vegetables taste perfectly delicious on their own; they don't need to be smothered in sauces or swimming in greasy melted cheese!
It's hard to believe that I have now come to the end of these 30 days. I do feel glad as 30 days without a break was hard, well it was for me! In a few days, when the dust has settled, I will write up all that I have learned along the way and a few hints which may make a homemade lifestyle a little easier!
Looking back...
I was under no illusion that cooking everything from scratch for 30 solid days would be easy. Every single thing for breakfast, snacks, lunch and dinner would have to be made by my own two hands. There would be no break and no reaching for freezer food or store cupboard favourites when things got tough. I also knew that, come hell or high water, I would not give up and I'm pleased to say I made it to the end with only a few extra grey hairs and perhaps a couple more worry lines to decorate my weary face!
Before I could start the cooking, we had to do the shopping; this provided a surprising outcome. My husband and I reeled backwards when all the ingredients required to start my challenge came to almost double what we would usually spend. I must admit that this was not the most propitious of starts but I felt certain that the next shopping trip wouldn't be as expensive, or so I promised my husband!!
The first week of my challenge was not only a costly affair but it was also exhausting. I started off with all guns blazing and pushed myself too far. I was trying to make homemade pesto, my own gnocchi and granola, all at the same time. The worktops were overloaded with dirty bowls, saucepans and potato peelings and I felt totally overwhelmed. I honestly hated every second and wondered if I had made a dreadful error of judgement! Thankfully I did learn my lesson and realised that, in order to retain just a little sense of order, I needed to take things one step at a time and not attempt 10 things at once! This is a concept I've always struggled to grasp!
I quickly discovered that there was little point in trying to cook everything from scratch if I wasn't organised with the meal planning. If I failed to think ahead and write out a weekly menu plan along with a list of the required ingredients I was, quite frankly, DOOMED. The week would quickly fall apart at the seams and I would be left hunting through the fridge desperately trying to think up a meal. Not only did a weekly menu plan help to keep my brain focused but it also stopped me wasting food.
After the first stormy week had passed I moved on to a much calmer few weeks. I found that, if I had a really exhausting day in the kitchen, this would allow me to have one or two easier days. I managed to find a routine which I found fairly easy to stick to. My favourite part of the (cooking) day was making fresh bread. I would start kneading at the boys' bedtime and, by the time I climbed the wooden hill, the loaf would be baked and cooling down ready for the following morning.
The absolute highlight of this challenge was when my elder boy, Isaac, came home from pre-school with an empty lunchbox, time after time. He used to leave his lunch almost untouched but, by making a little more effort and including such things as slices of crusty bread, with my lemon curd, lentil quiche, cheese straws and a wholemeal rock cake, I had struck gold!!
I must admit that there were challenging moments and these usually involved trying to cook while both my boys were on the loose! Isaac was pretty good but my younger boy, Oliver, was only 16 months and into absolutely EVERYTHING! I tried to carry on while he pulled open cupboard doors and crawled around my feet but it proved very stressful. I then tried putting Oliver in the living room with the stair-gate across the kitchen door. Although I could see him and talk to him, he created merry hell. This was also very stressful! I ended up feeling guilty for spending my time in the kitchen instead of with the boys, or for not doing enough in the kitchen. I felt myself pulled in several directions at the same time!
The other issue, which is actually quite a big deal, is that you can't make your children actually try, eat or enjoy what you have slaved over! I can't begin to express my dismay and frustration when my younger child swept his food to the floor in utter disgust, or my exasperation when my three year old looked at the food upon his plate and declared "I don't like it" before pushing it to one side. Thankfully, over the weeks Isaac my elder boy did tuck into this food. However Oliver believed that bananas provided him with a well-rounded diet!
On the rare occasion I found time to cook in peace and the whole challenge didn't seem too hard. I didn't have to re-read a recipe 20 times and I could move around the kitchen freely, with no toy cars to trip over or Lego to step on which, may I add, is pure agony! However, the whole point of the challenge was to cook for my young family, and they just so happen to be around a lot!
I was very fortunate to enjoy time with Isaac in the kitchen, which was mostly at the weekend when my husband was at home to offer an extra pair of hands. One of my favourite moments was making fresh pasta with my young assistant. Isaac was mesmerised as he watched the pasta roll out of the pasta machine. I had to keep a little bit of dough back so he could put it through the machine, over and over again!
There are many aspects of this challenge I have enjoyed but a few things stand out the most. Firstly I loved baking my own bread. I have made bread a few times in the past but I now have a real passion for freshly baked loaves. Shop bought just can't compare. Another joy was making a completely homemade lasagne; this gave me a real sense of accomplishment. Making the tomato sauce, chopping the vegetables, making a cheese sauce and, of course, my own pasta took what felt like an eternity but it tasted absolutely delicious and well worth all the effort. One thing I can't stop raving about is coleslaw! Not only is there the slicing of all the vegetables but I had to make the mayonnaise too. I was found a few times eating any leftovers straight from the bowl!!! I am not sure I can bring myself to buy shop bought coleslaw again; the vegetables just aren't as crunchy!
There isn't much I would not wish to try again, but chopping up a mountain of tomatoes is something I don't want to repeat! Several hours spent peeling skins from tomatoes is time I'll never get back! I also doubt if I will bother to make my own curry paste again. It's a little fiddly grinding spices, crushing garlic and grating ginger, and then you have the blender/food processor to wash up. Perhaps it's worth the extra work if you are a family who love a good curry but my boys usually turned their noses up at my efforts!
All in all, I believe that moderation is the key, as with most things in life. Cooking shouldn't take over our lives and surely there is no reason why we should feel racked with guilt if we give our child some baked beans from a tin or a shop bought pasta sauce. I certainly don't wish to spend my every waking hour in the kitchen making healthy cooked from scratch food if it means I don't spend quality time building a healthy relationship with my children! I do hope to keep making my own bread but I very much doubt that I shall always make my own jam. When I make a lasagne I will hesitate to make my own pasta sheets but I will make my own sauces and, when I chop up all the vegetables for a coleslaw, I will use readymade mayonnaise. I will try my best to carry on cooking a majority of our food from scratch but the world will not end if I take a packet of fish fingers from the freezer every now and then!