Detox soup diet - recipes to help you lose up to 5lbs in 5 days
Lose 5lbs in 5 days by following this detox soup diet - it couldn't be easier!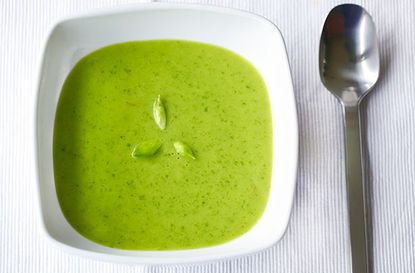 GoodTo newsletter
Sign up to the GoodTo Newsletter. You can unsubscribe at any time. For more information about how to do this, and how we hold your data, please see our privacy policy
Thank you for signing up to . You will receive a verification email shortly.
There was a problem. Please refresh the page and try again.
Fancy losing 5lbs in just five days? Who doesn't!
A detox diet (opens in new tab) doesn't have to be scary or difficult, and now, thanks to dietician Monica Grenfell, you could lose weight (opens in new tab) by feasting on your favourite homemade soup recipes (opens in new tab).
Souping is one of the biggest new healthy food trends, hailed as a better alternative to a juice cleanse, thanks to its lower sugar content and significant nutrient quota. Celebs like Gwyneth Paltow, Jennifer Aniston and Millie Mackintosh are all big advocates of the health benefits of soup - so how can you put it into practice?
What is the detox soup diet?
This detox soup diet is a single-food-day diet that works (opens in new tab), which allows you to eat unlimited vegetable soup alongside other small, nutritious meals.
Monica says, 'When the weather is cold and miserable outside, it's tempting to eat more to while away the longer evenings. But provided you stick to this five-day soup detox, unwanted fat will burn quicker as your body uses more calories keeping warm.'
'Eat one major type of food each day, with unlimited vegetable soup, and you'll get your nutrients as well as losing weight.'
Detox soup
The heart of the diet is vegetable soup. Excluding potatoes, you can use any veg you like - experiment! - but the simplest version of the recipe is this (take equal portions) of:
Spinach
Carrots
Celery
Onions
Green peppers
Tomatoes
Chop them up, chuck them into a pot, cover with water and cook! Once cooked, blitz the softened vegetables in a food processor. You could also throw in some fresh herbs or spices for a bit of extra flavour. And there you have it - a unique, tasty and filling vegetable soup that you'd never find in a can!
No tinned! Don't just buy tinned vegetable soup - the sodium content is through the roof and they often don't contain many vegetables. And many vegetable soups contain potatoes, which are high in starch and have a high GI. Leave them out as your goal is to lose weight!
The menu planner
Day one: Fish day Have oily fish, like salmon, mackerel sardines or tuna, or shellfish, for two meals, with roasted Mediterranean veg, and green veg, like broccoli or spinach. As much soup as you want.
Day two: Potato day You can eat one 227g baked potato (served without butter), and choose any types of veg to make up your meals (especially dark green, leafy ones). Have fruit for breakfast. Unlimited soup as before.
Day three: Egg day Have three eggs, singly or together, at any time and as much fruit as you want with meals, eg. a fruit platter for breakfast with a boiled egg, and mixed salad for lunch with omelette. Unlimited soup.
Day four: Bread day Eat up to four slices and as much skimmed milk as you want. Try toast and latte for breakfast, with fruit. This is to give you protein, calcium and potassium to lessen cravings for sweet and fatty foods. Unlimited soup.
Day five: Meat day About 100g a serving and try to make it red meat for the iron - eg. grilled steak, lean burgers or cold roast beef or lamb. Have with salad or veg. Drink plenty of water. Have fruit for breakfast. Unlimited soup.
Day six and seven: Days off! Have a break from everything - indulge a bit, drink alcohol (in moderation).
For future weeks Follow the diet for three days a week, choosing your favourite days.
Things to avoid:
Give up alcohol (opens in new tab), fizzy drinks (swap for unsweetened tea, unsweetened juice, black coffee and water), fried foods. Eliminating these during your cleanse will really help to detox your liver. (opens in new tab)
If in doubt, have soup. It's full of fibre and will fill you up. You may find your bowel movements change, but unless the change is dramatic, enjoy the detox!
Common mistakes
Monica says: Every day, dozens of women write to me and say they're mystified at how the weight's creeping up when they're vigilant about their diet. Here are some of the most common traps:
1. Eating too much fruit People consider fruit a 'good' food, and it is. But it's full of fructose, a natural sugar. This instantly hits your bloodstream and if you eat fruit when your energy stores are full, your liver will convert it to triglycerides - fat. Of your five portions a day, make three of them veg.
2. Not enough fibre Fibre is calorie-free. It absorbs water, curbs hunger and as it goes through your system, it removes fat and waste.
3. Too much salt Sodium increases water retention. You look puffy, feel heavier and this is demotivating. Look for unsalted butter, salt-free cereal and make your own sauces - tinned and bottled sauces are stuffed with salt!
4. Not being aerobic enough Walking everywhere is a good way to live your life, but official guidelines say to raise your heart rate to 73 per cent of its maximum (MHR) four to five times a week, for 30-40 minutes. Aim to do this and you'll keep pounds off.
Video of the Week