We earn a commission for products purchased through some links in this article.
If your house is anything like ours then you'll always be looking for that elusive pair of keys! Banish all your troubles with this personalised key boy, which can be hung at your front door.
Beautiful and practical, this simple craft idea will only take you an afternoon or morning to complete and will be well worth the effort – just think of all the time you'll save looking for keys.
We love the vintage look of a black and white image but you can of course use a colour photo if you prefer. Just choose a family favourite that you'll want to look at every day.
So, grab your paint brushes and glue and have a go at this easy key box craft. Don't forget to let us know how get on by leaving a comment in the box below.
You will need
-An old wooden box with a sliding lid (also available in craft stores)
-Paint
-Paint brushes
-A favourite photo, printed on A3 paper
-Glue
-Mod Podge
-Gloss
-Self-adhesive hooks
-Picture hanging rings
Step 1
Paint your box inside and out – you might want to lightly sand it down first, if it's a bit tatty. We used a chalk-based paint which went on smoothly, and it only took a tester pot to cover everything. Set aside to dry thoroughly.
Step 2
Print your photo onto A3 paper – a local printer will do this for around £2 or you could do it yourself if you have photo paper. Cut the image to size, so it fits the lid of your box, then glue it in place. Make sure the image is clear of where the lid runs in and out of the box, or it'll get rucked up.
Step 3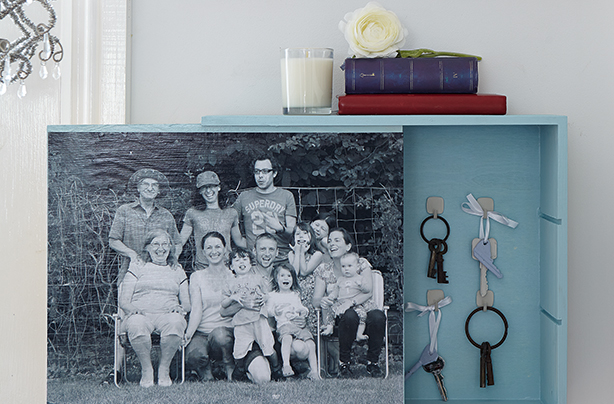 Add a coat of Mod Podge Gloss to the picture on the lid.
Once it's dry it'll look shiny like a photo. Add self-adhesive hooks inside the box for hanging your keys. Screw picture rings into the back of the box, so you can hang the whole frame on the wall.